I can finally share the pictures of John and Allyson's wedding…the winner of Bridalplasty. On an oddly warm day in December, the two wed at a breath taking estate in Malibu, called Villa Cascata, which was designed by owner Audrey Ruth. She is beautiful, talented and gracious. Such a great combo! She and her staff were an absolute treasure to work with!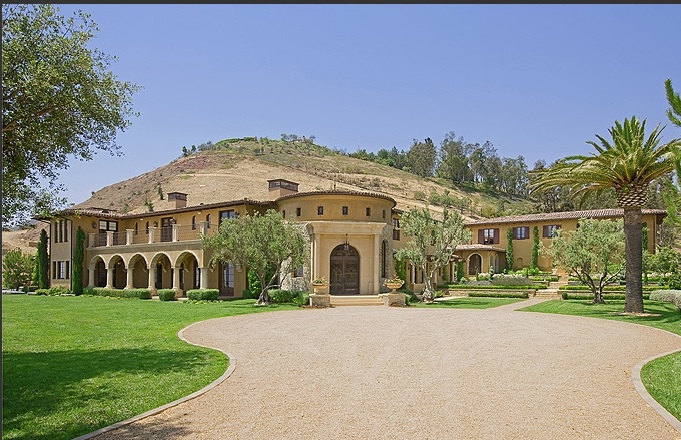 One thing Allyson made very clear is that she likes bling! She said, "I have ideas, I just don't know how to pull it all together", which is what I hear from a lot of my clients. She wanted a whimsical design and used words like "Rock Star" and "Alice and Wonderland". So, I had to keep a few things in mind…it needs to reflect the bride and groom's personality, it needs to be elegant, it needs to be a "celebrity style" wedding and it needs to look great on camera…so I pulled together what are, in my opinion, some of the best wedding vendors in the world!
Katie Gaines from eitak Designs is a designer I have been working with for years now! She is beyond amazing. The amount of creativity and talent this woman possess is unbelievable. She is an artist who found passion in weddings…and it shows! The invitation is a guest's first glimpse into the wedding, so we knew we wanted Allyson's family and friends in Chicago to be blown away. The invitation arrived in a box filled with crystals (Bling!) and feathers. Here is what it looked like…is Katie amazing or what!?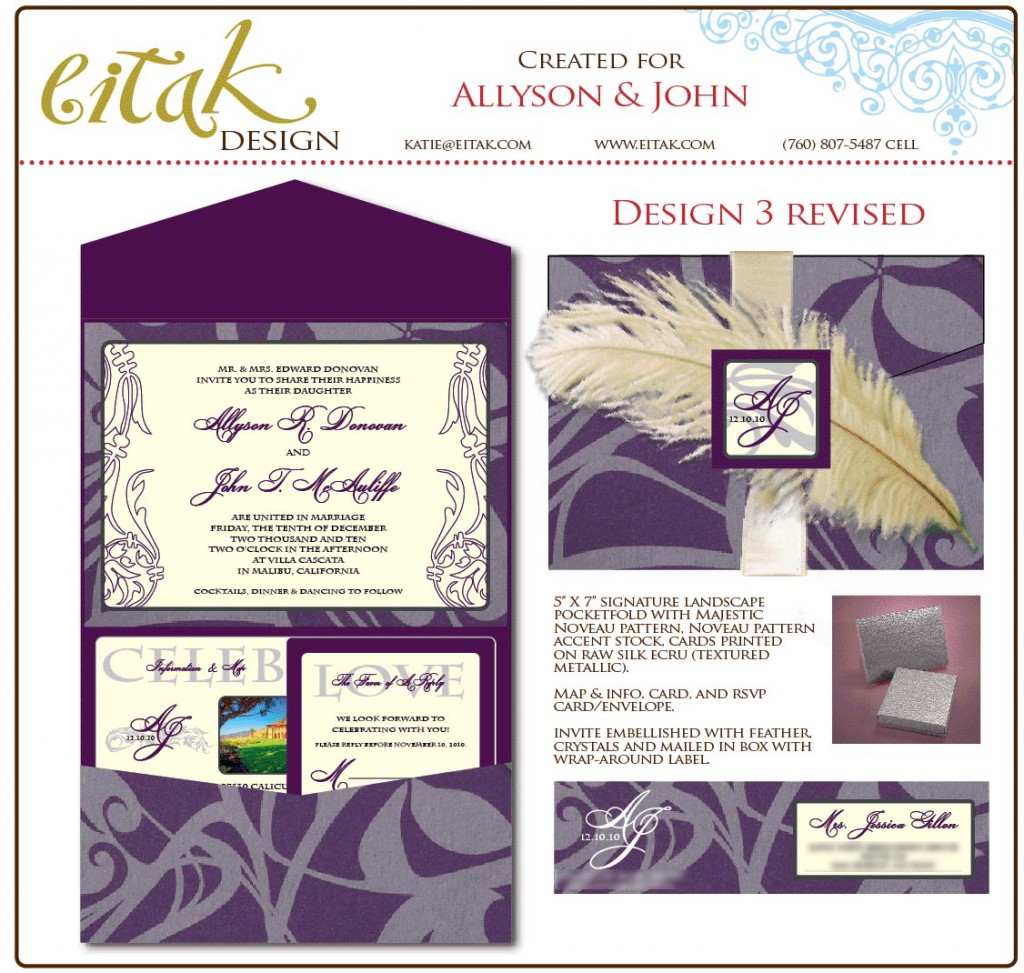 Here she is! Mrs. Allyson McAullife! The fabulous Kevin Lee of La Premier gave our bride the BLING! she wanted. Check out this bouquet! Holy Bling!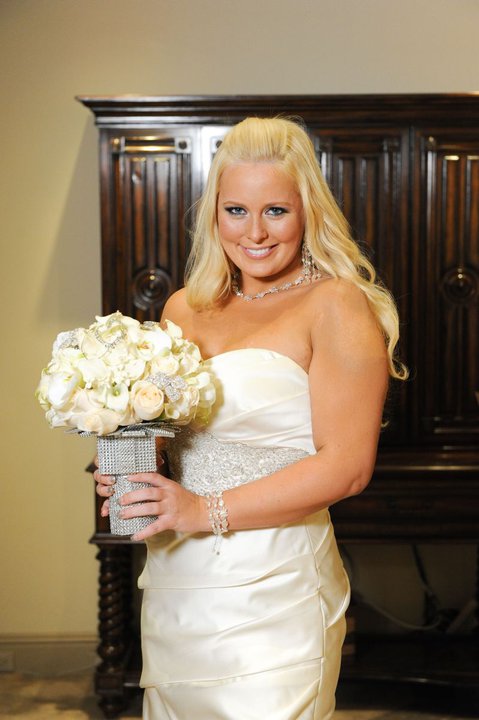 I brought in Rrive Davies of Rrivre Works out of Los Angeles. He created the most over the top rustic altar piece and Kevin Lee draped it in thousands of flowers!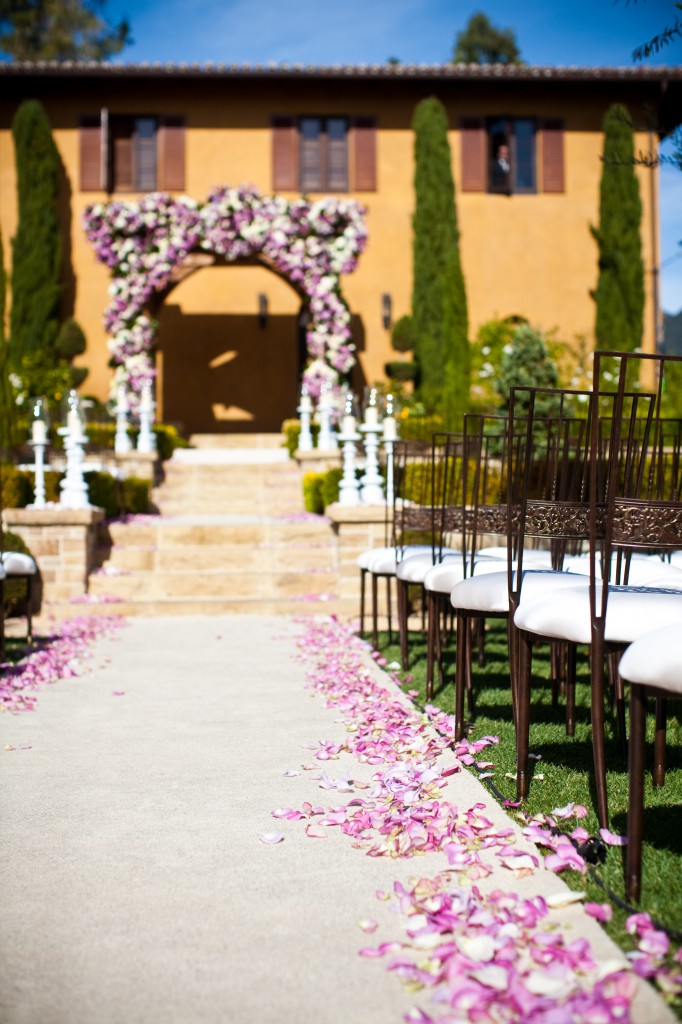 After six months apart, the happy couple was final married!
Allyson wore a gown by Winnie Couture in Beverly Hills. Since her family and girlfriends couldn't be with her, Shanna Moakler and I went went with her to choose her dress. We had a great time!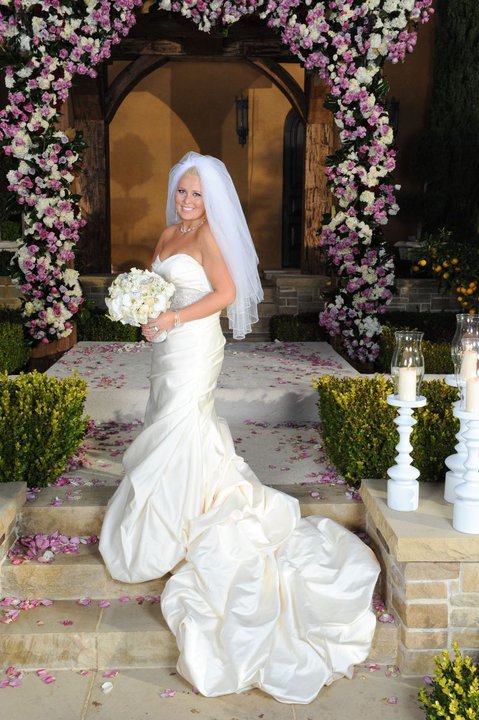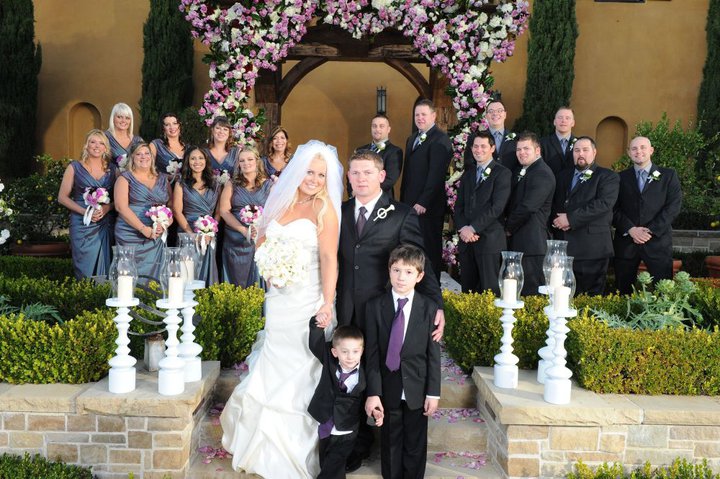 Once the highly anticipated ceremony was over, guests walked through a path of chandeliers from the garden to the cocktail area with the most unbelievable, 180 degree view of Malibu and the Pacific Ocean. Along the path where a bunch of little Moraccan sitting areas which encouraged guests to sit and soak in the view. Designer Rrivre Davies wanted to give guests a fun little get away…Moracco for an hour!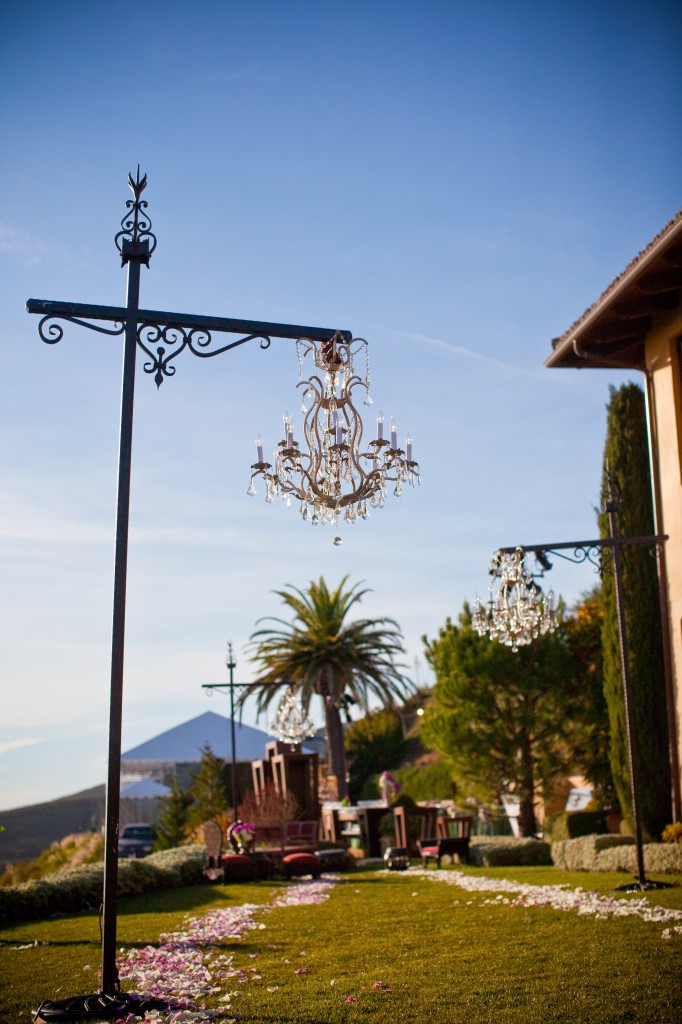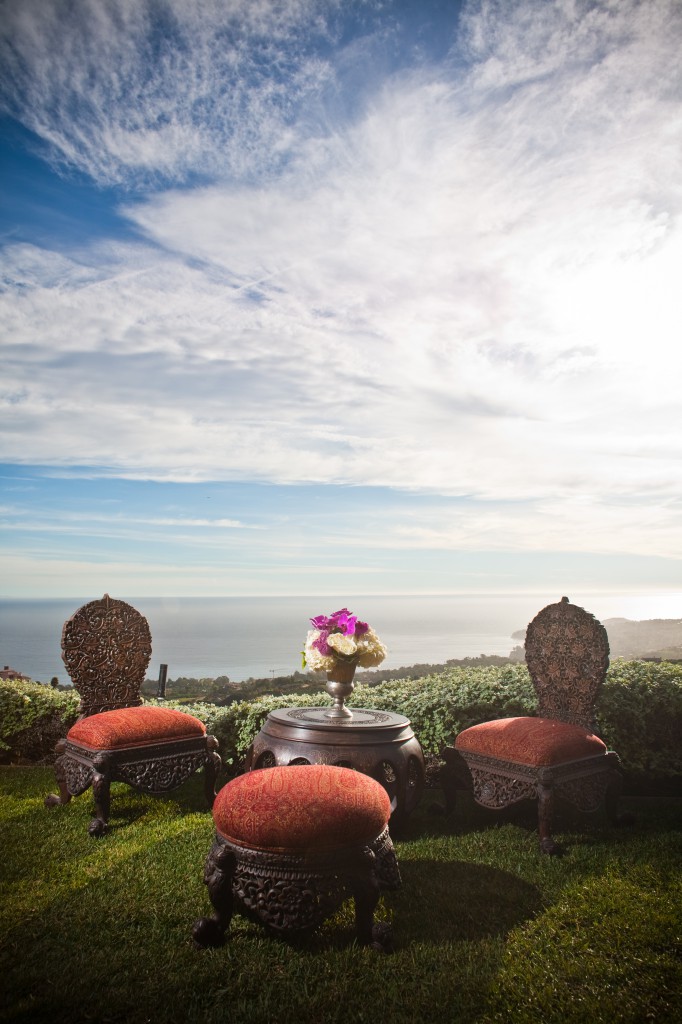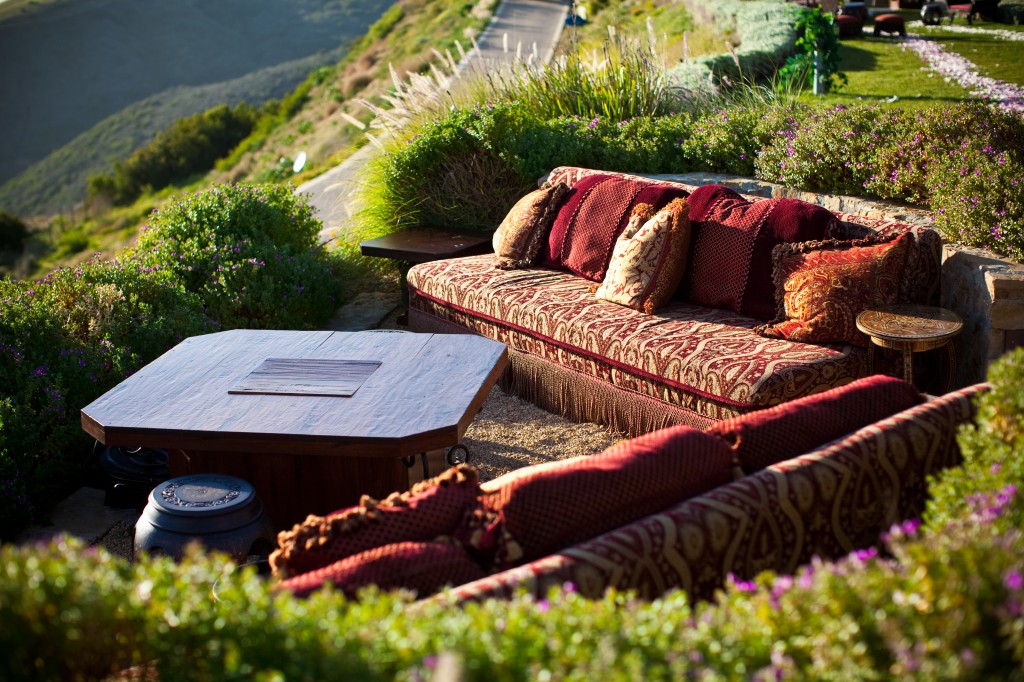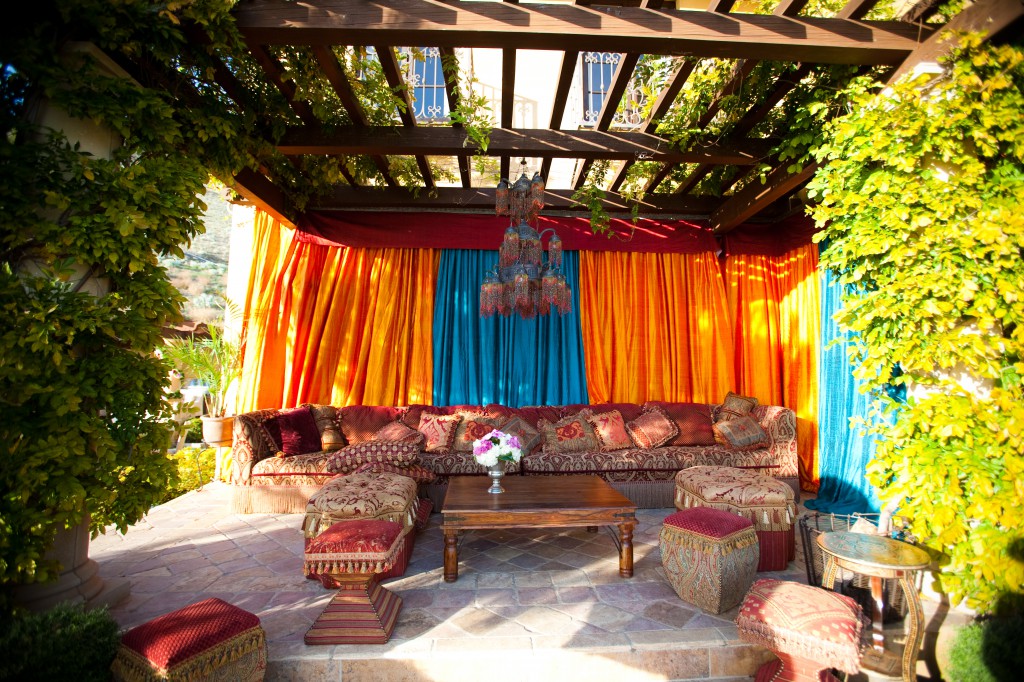 If guests weren't in Morocco, they gathered around the pool area. The view was the star of the cocktail hour so we wanted to keep the design of this area very simple.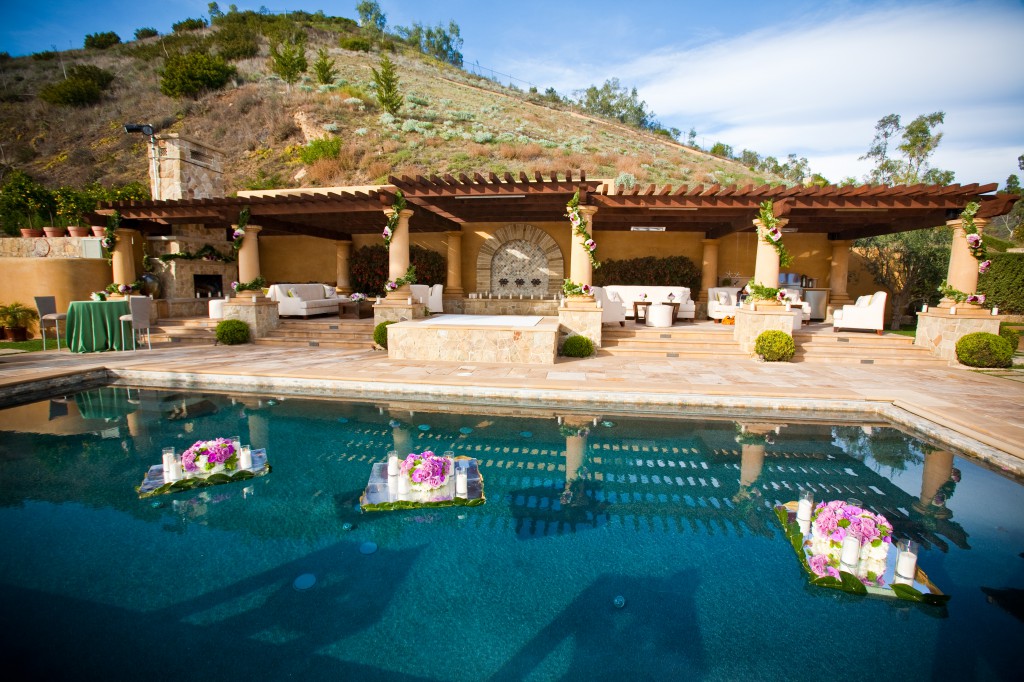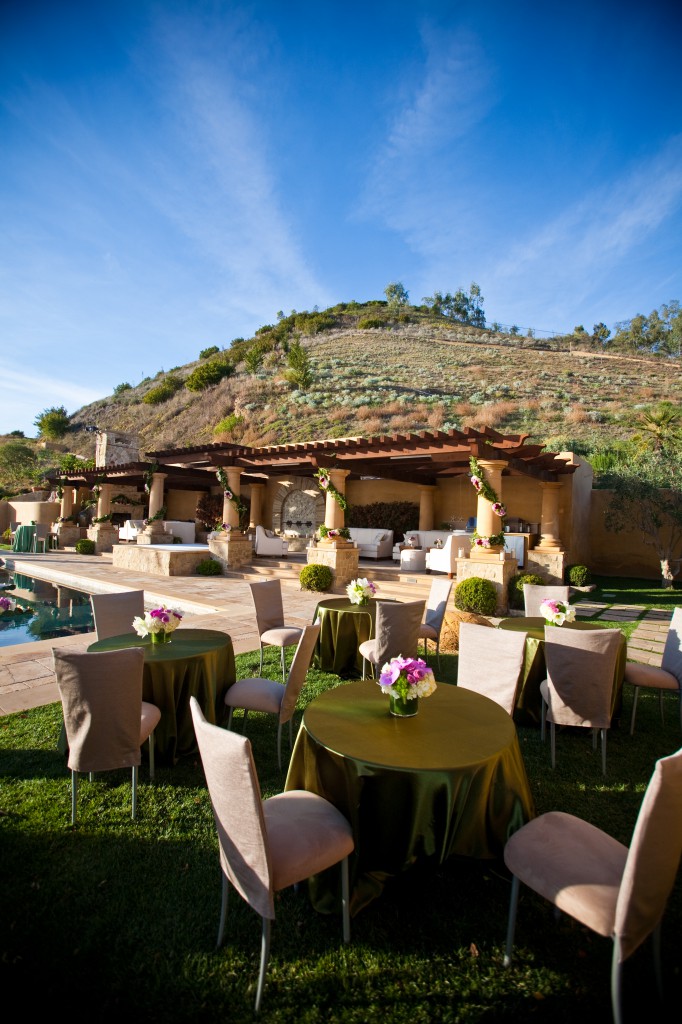 The signature cocktail, also designed by Good Gracious!, was a gorgeous blueberry purple basil mojito…yum!!!!      The entire menu was designed to please the typical mid westerner. The theme? Meat and potatoes, of course! Appetizers consisted of goodies such as Mac N Cheese Cupcakes, Caesar Salad Cones & Short Rib Popovers.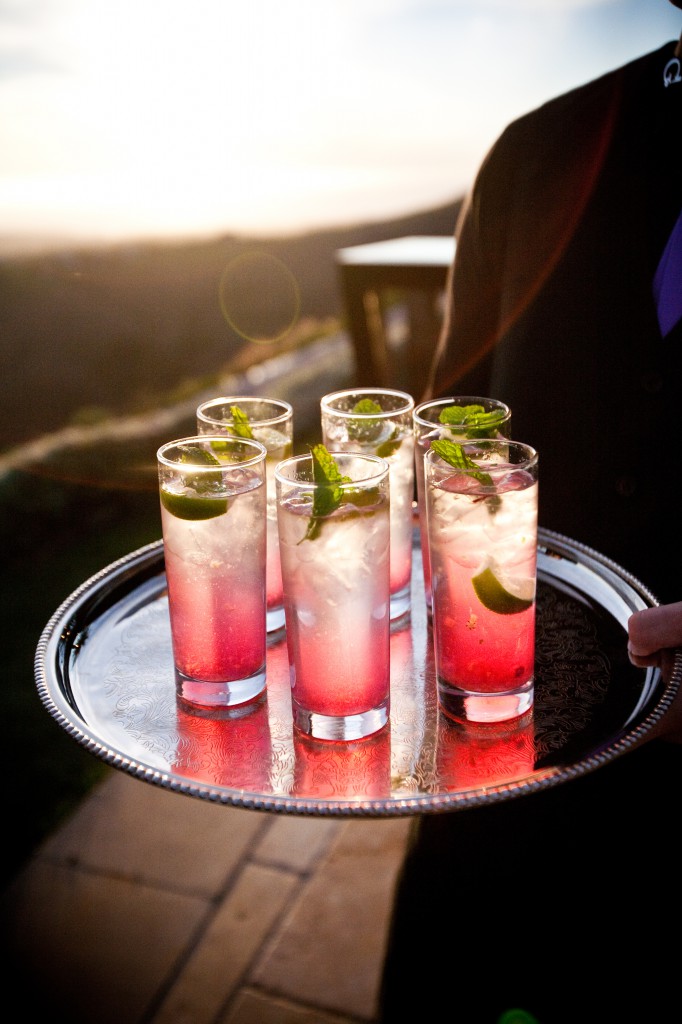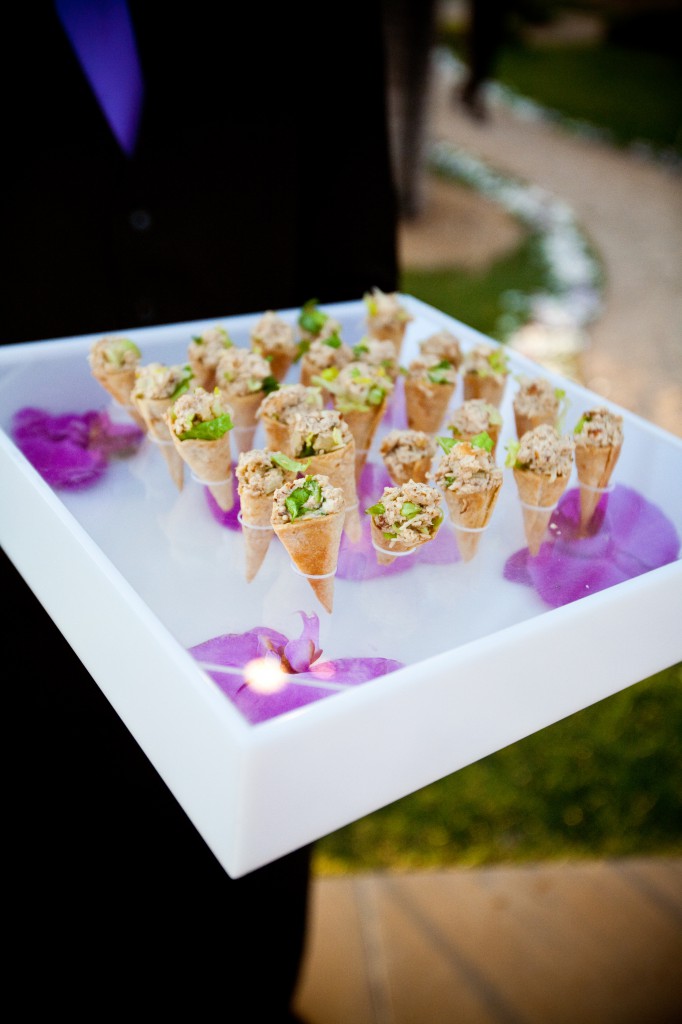 Allyson made one more thing very clear…she and her guests are beer drinking Chicagoans! So Pauline Parry decided a micro brew bar was a must! Bread sticks, spiced nuts and potato chips were displayed all along this sleek and sexy micro brew bar!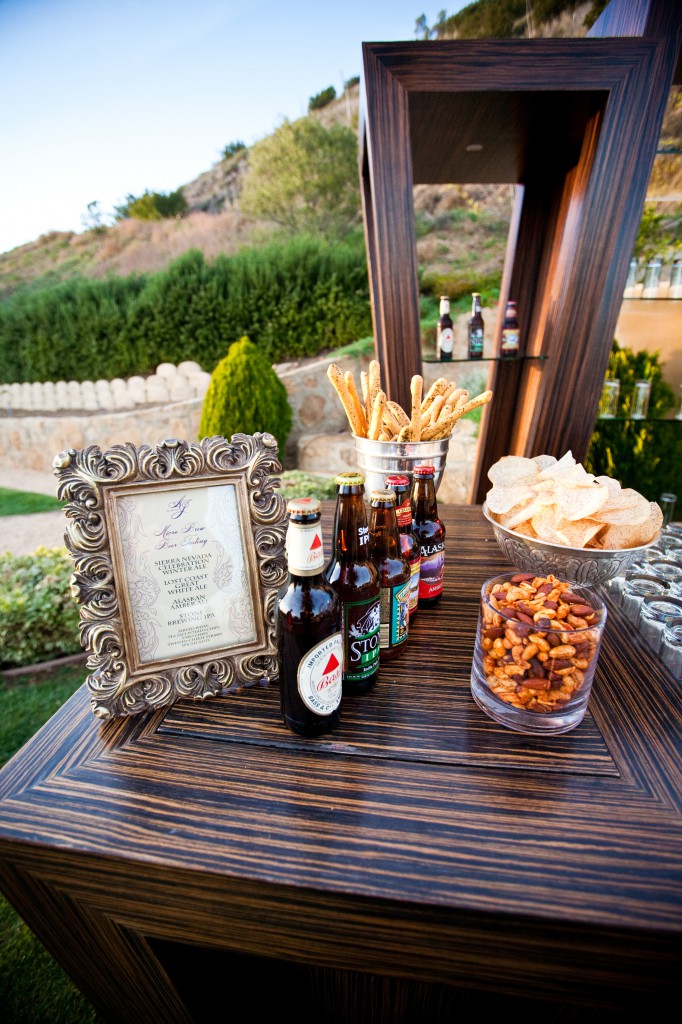 Wayne Foster Entertainment provided an unbelievable trio of musicans who performed an innovative version of "Ave Maria" and "The wedding march" for the ceremony. At the cocktail hour they created classical versions of songs from bands such as Guns N Roses, Metallica, and Journey.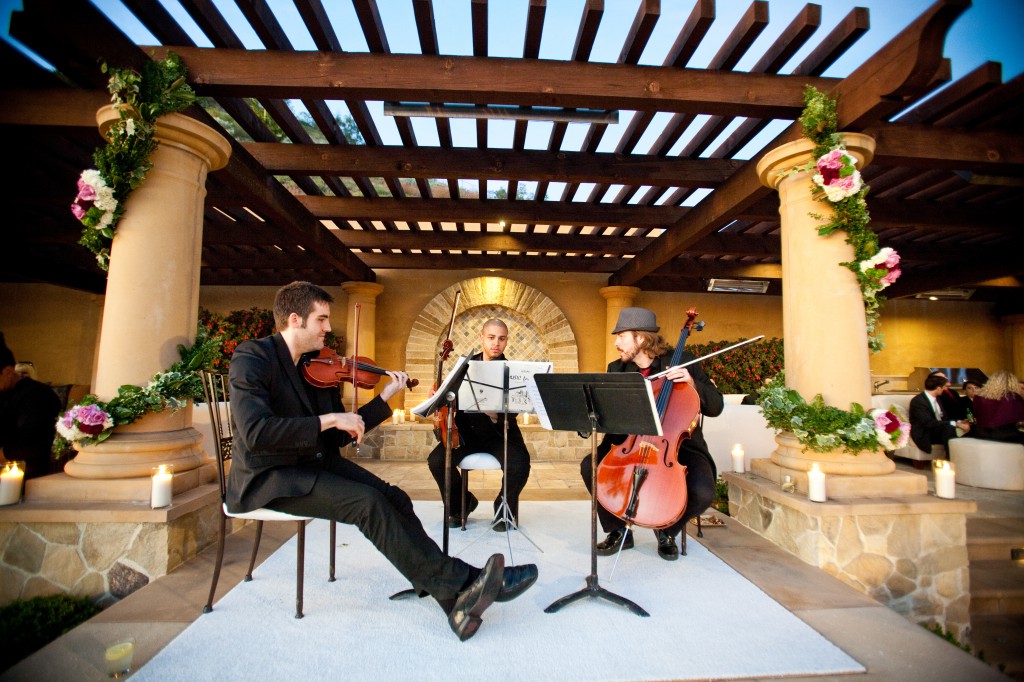 We loved these birdcages from Rrivre Works and Allyson loved feathers…so we decided to hang feather escort cards in this gorgeous cage and place it over looking the ocean, on the path to the reception tent.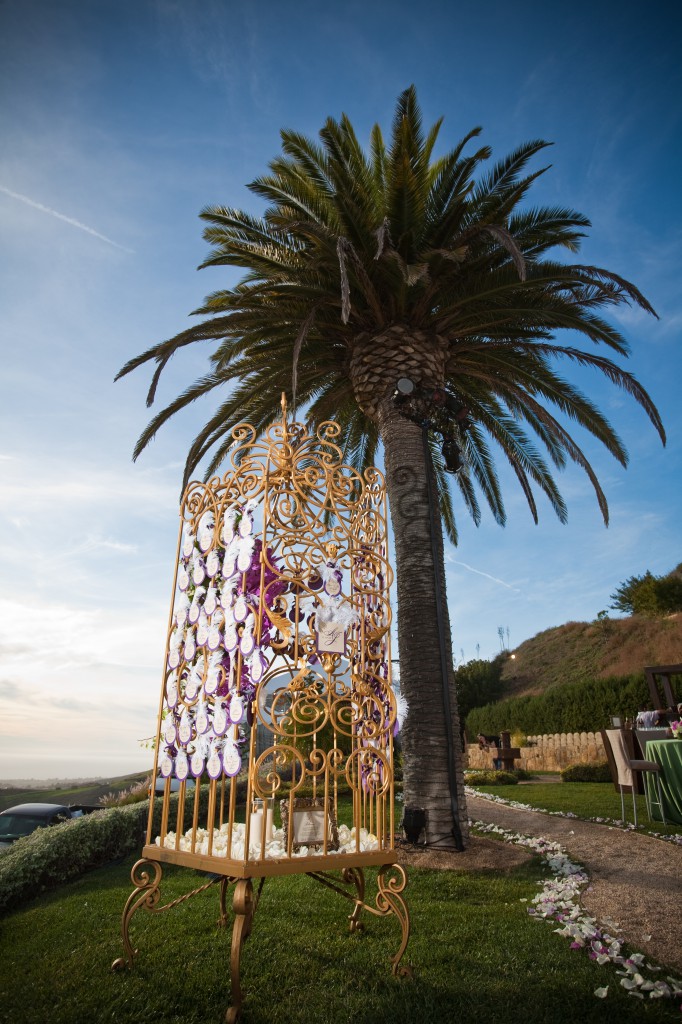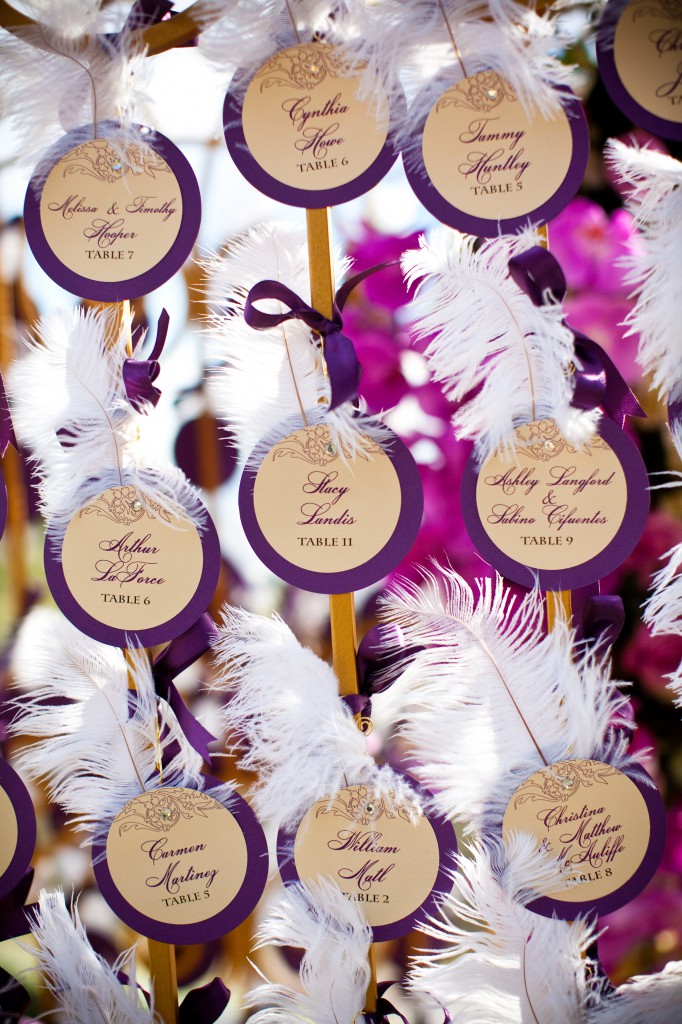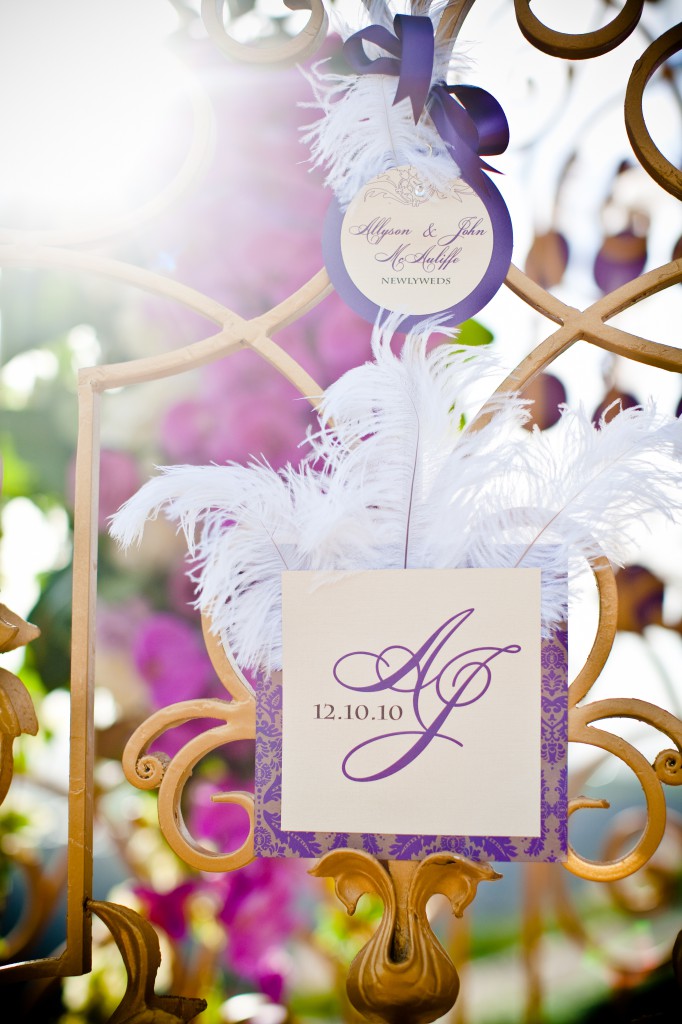 The tent…taaa daaaa! After meeting with Rrivre and telling him our initial design ideas, he wanted to drape the entire inside of the tent in silver fabric and accent with gold mirrors and crystal chandeliers. So how do we bring Rock Star meets Alice in Wonderland to life??? Here it is!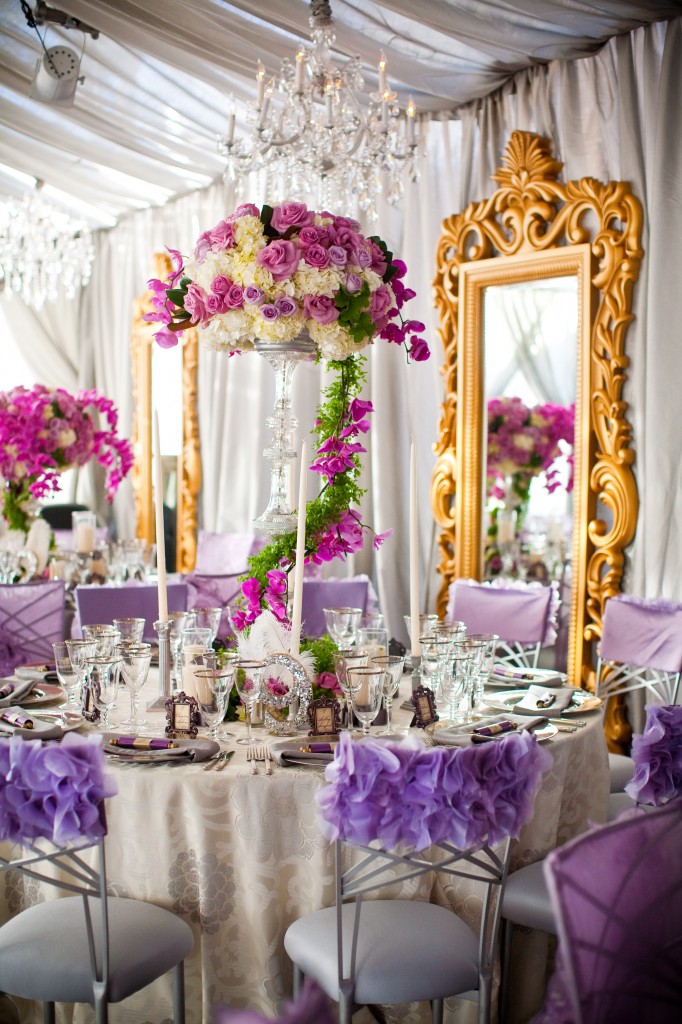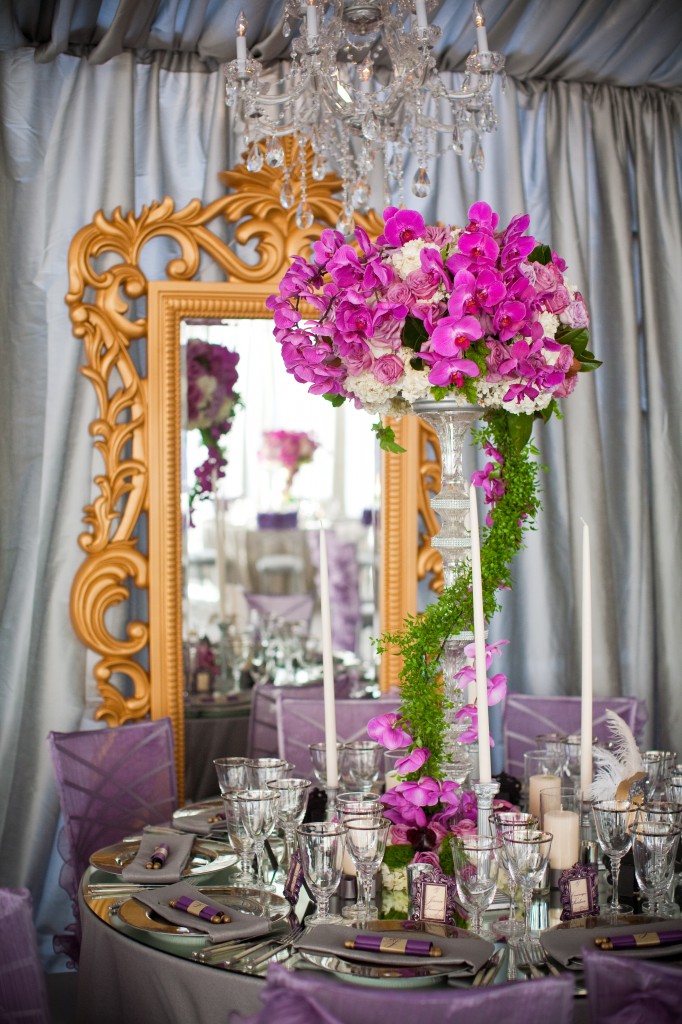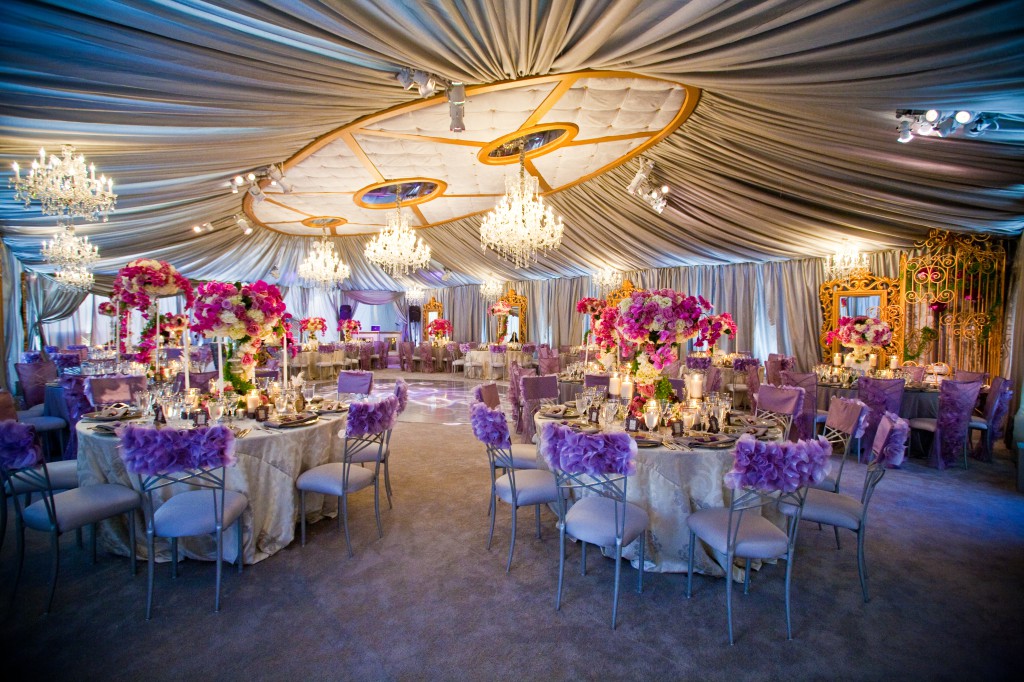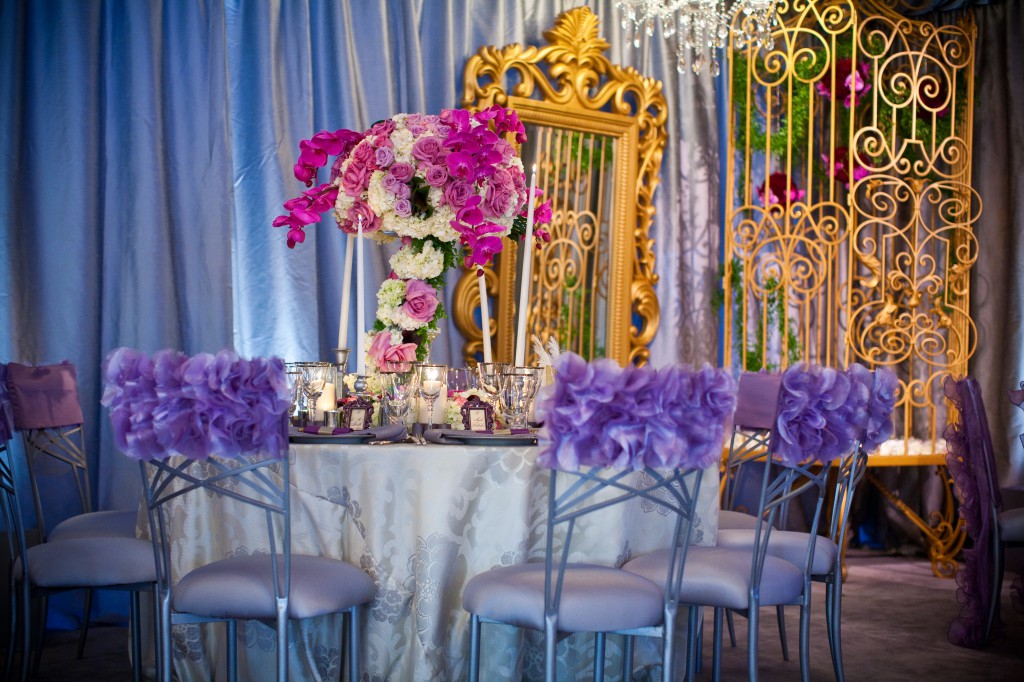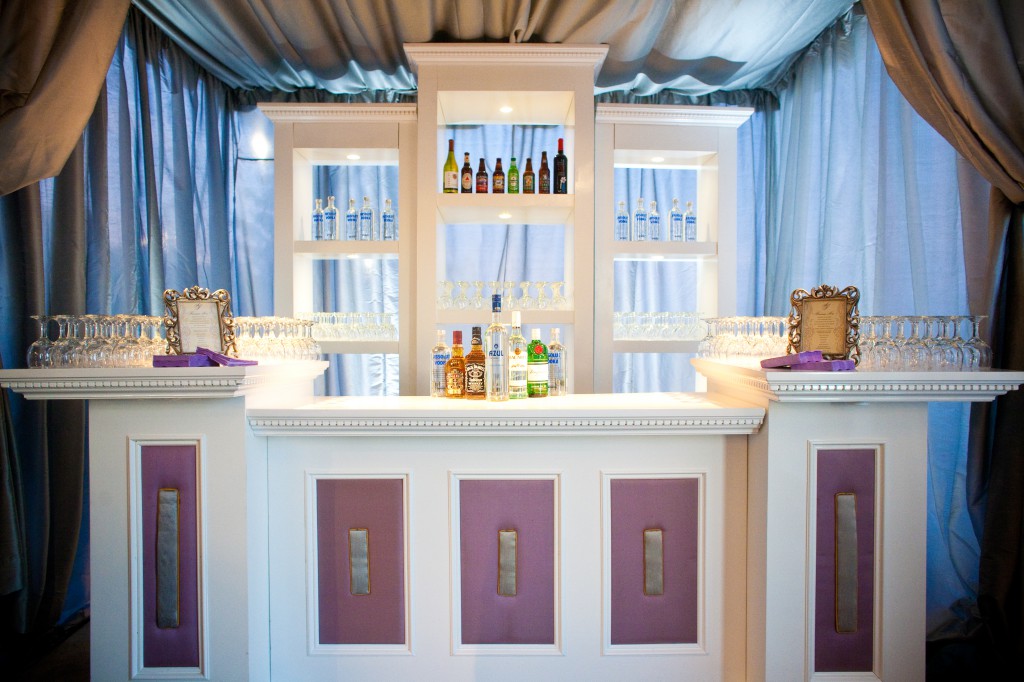 One side of the tent was covered in gold mirrors but the other half was covered in gold windows so guests could continue to enjoy the ocean view until the sun went down.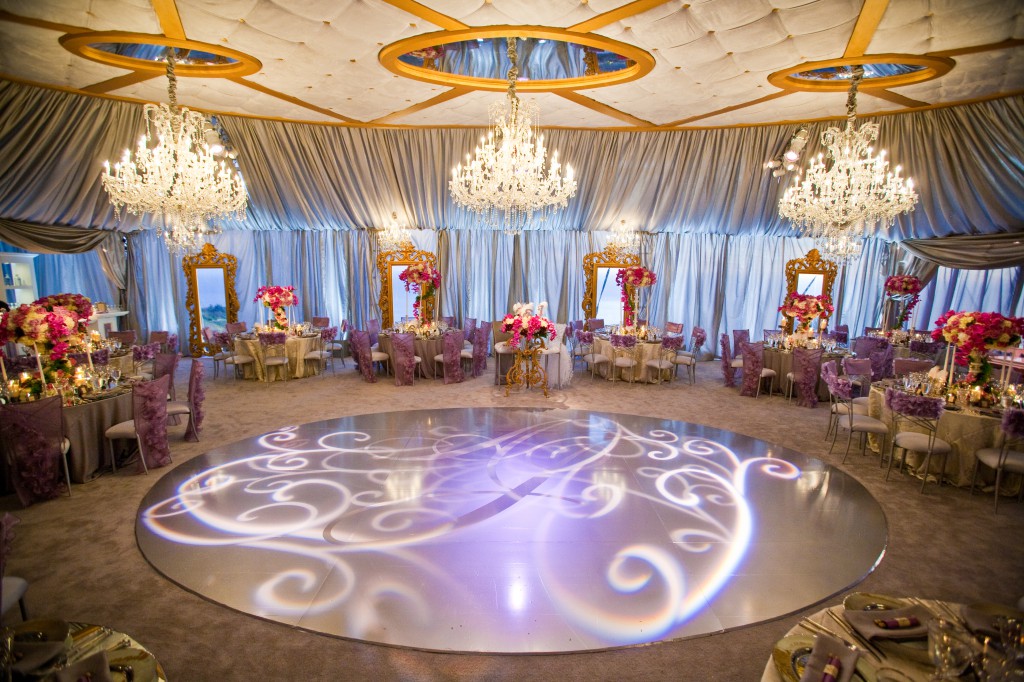 We covered half the tables in a mirror table top and paired them with a Coquette Sleeve and a Metallic Napkin by Wild Flower Linen.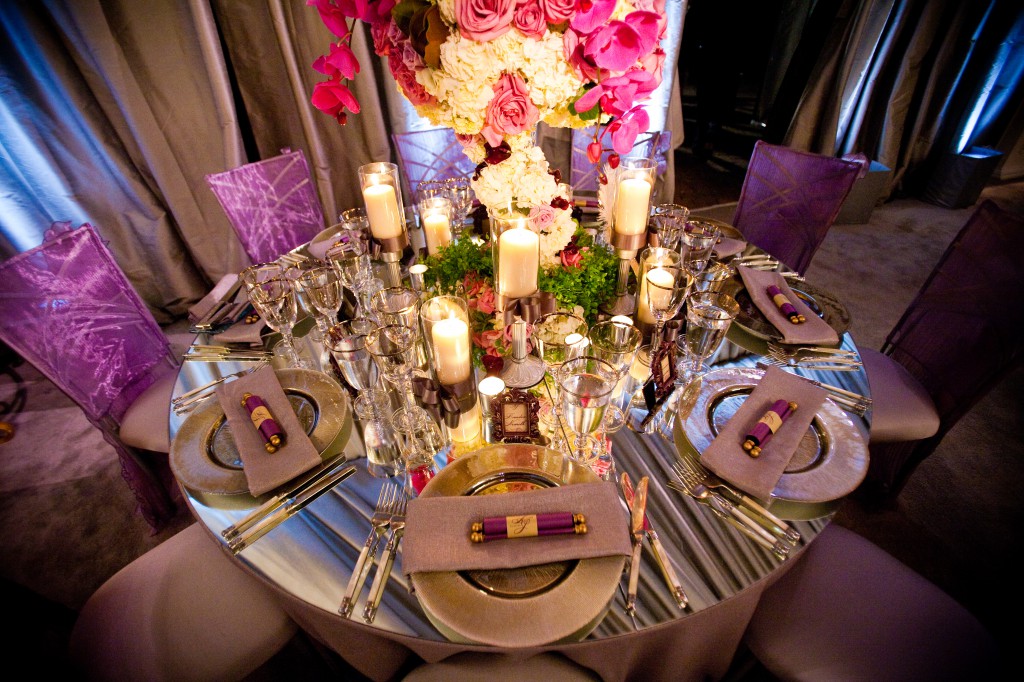 The other half was covered in a Hanae Silver Linen and paired with a Curly Willow chair cap all provided by Wild Flower Linen.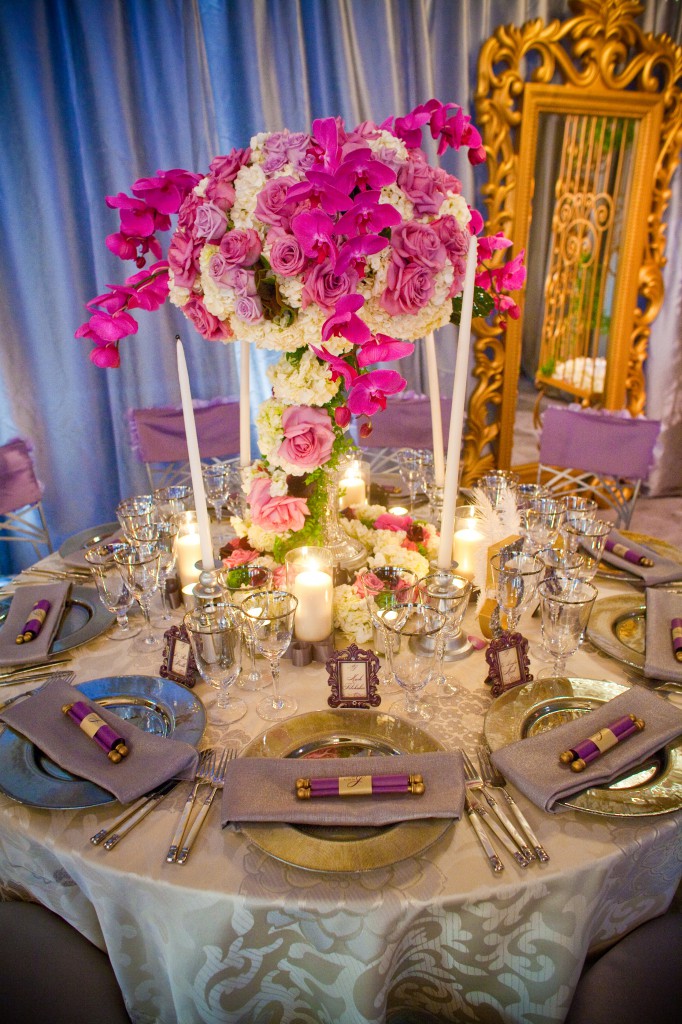 We wanted the menu to be a little more interactive so Katie from eitak Designs created a scroll menu that guests opened.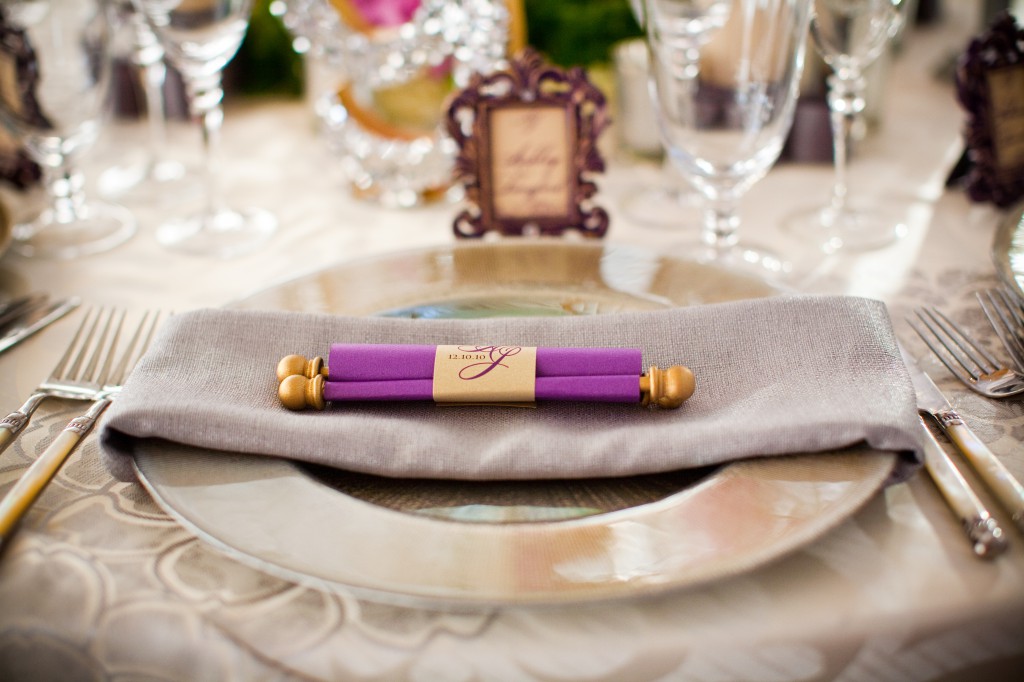 Another creation by Katie, she hand painted all of the place card holders. Love them!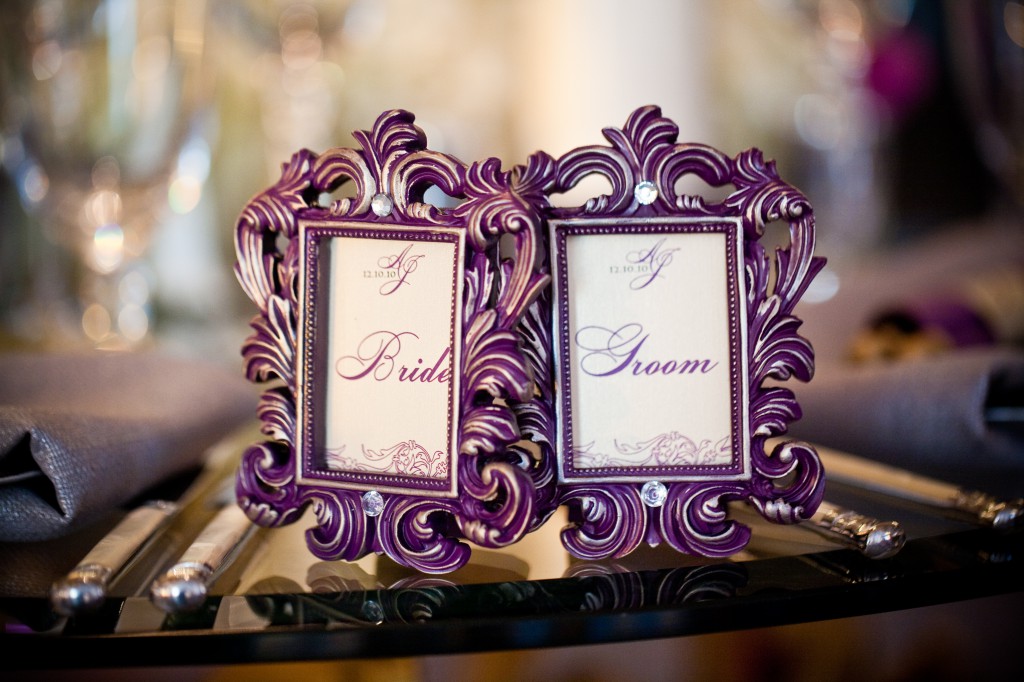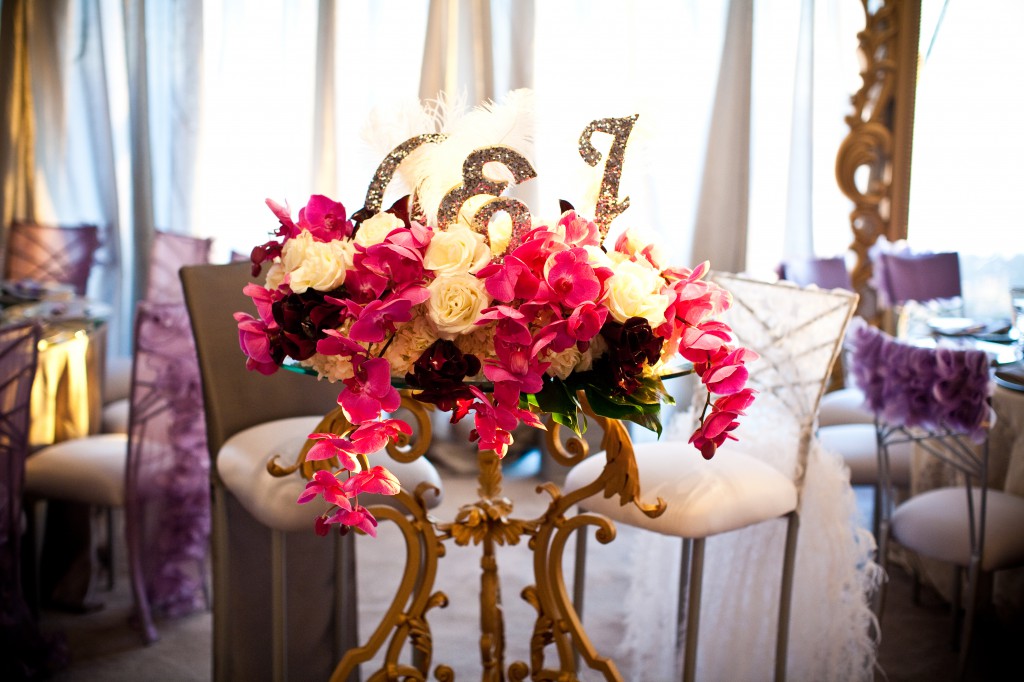 I love that the sweetheart table had a chair sleeve for bride and one for the groom! How great is this bride's sleeve!? This was designed by Young from Wild Flower Linen…so girly and fun!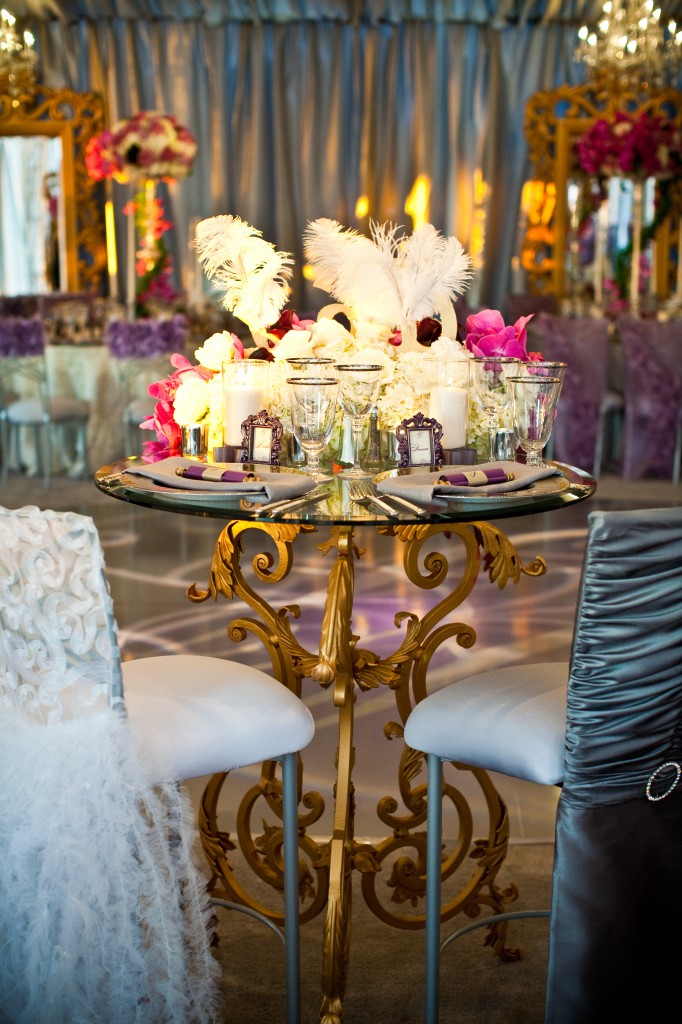 The bride and groom danced to "I can't fight this feeling" by REO Speedwagon.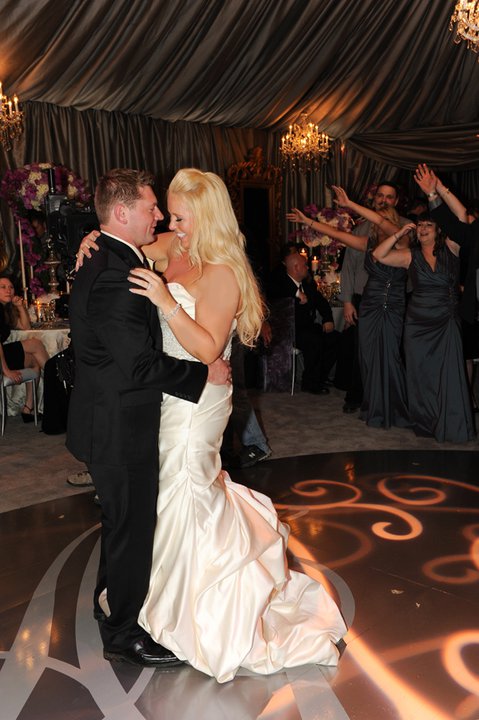 The cast…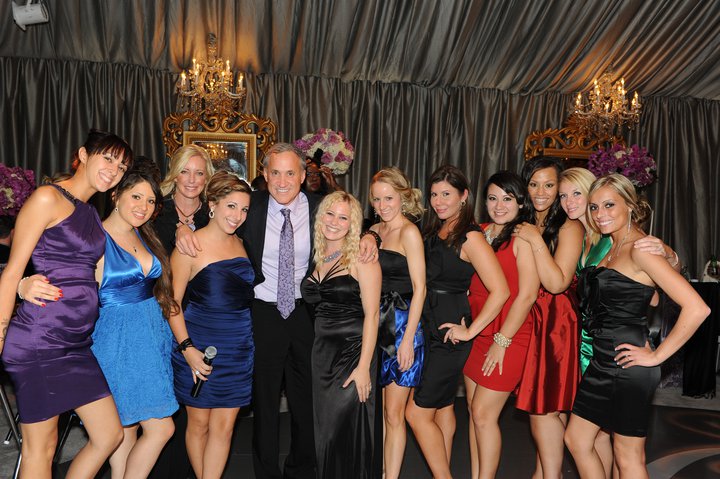 Celebrity guests…Brande Roderick with husband Glenn Cadrez and Shanna Moakler.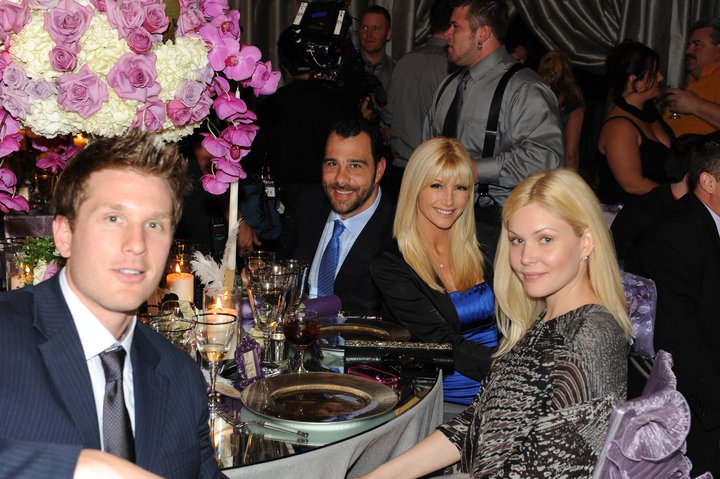 The "fabalaz" Kevin Lee…what a genuine, kind and gentle soul…with Celebrity Sylist Phillip Bloch and the Goddess herself…Apollonia. The Apollonia who starred in Purple Rain with Prince, you ask? Yep, that's her! God, I loved that movie!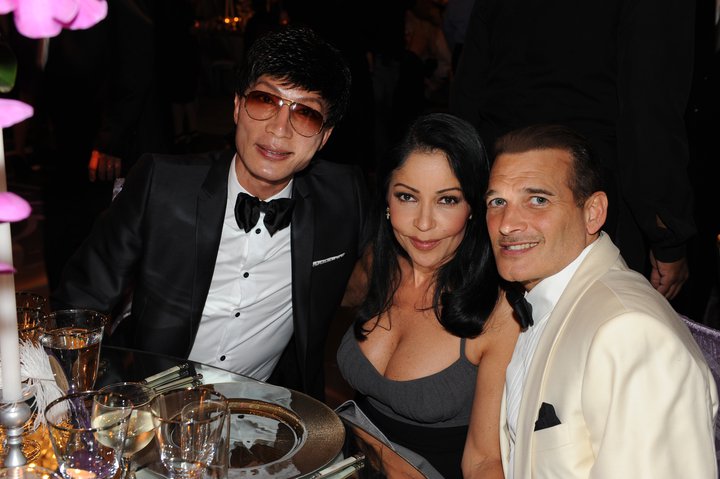 Allyson tossing the bouquet in true Allyson form.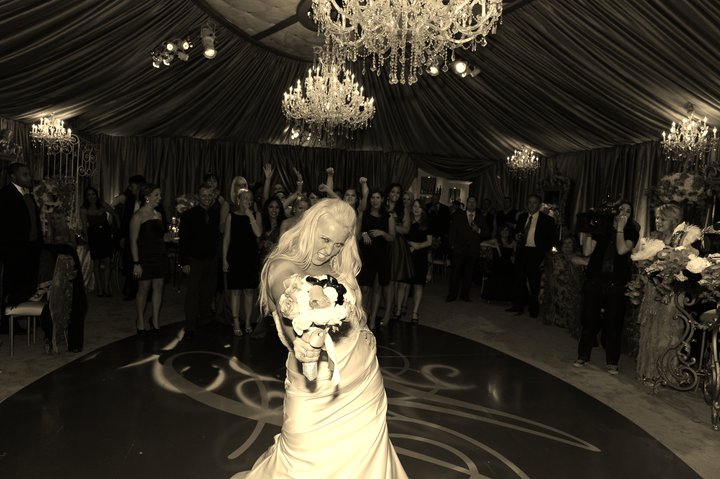 What a sunset…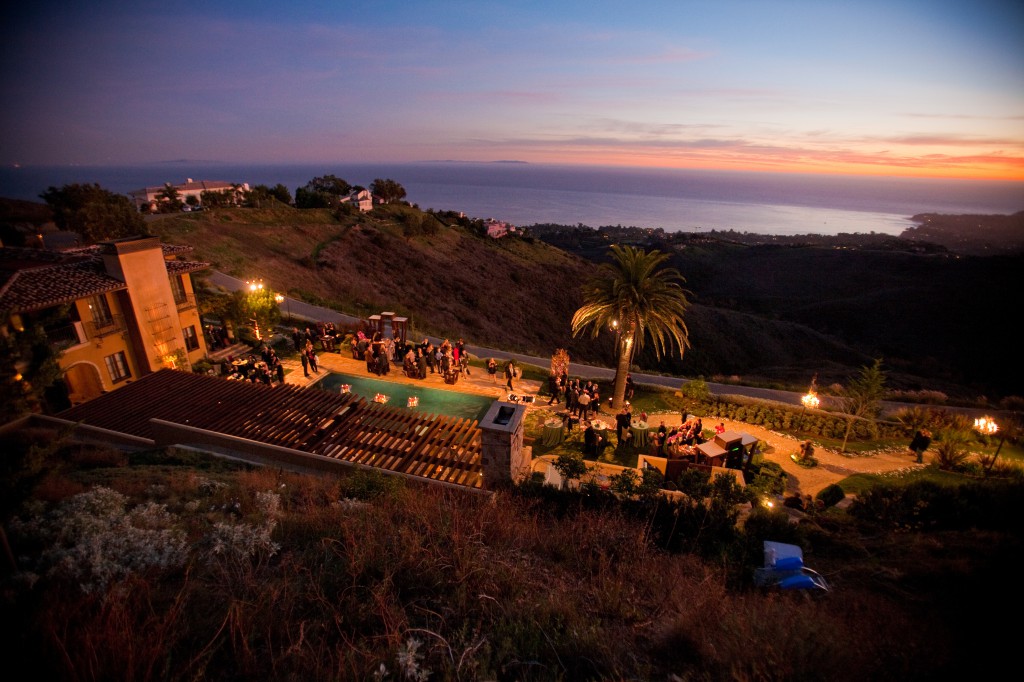 And finally…Mr. and Mrs. AcAullife depart from their celebrity style wedding after being a part for 6 months!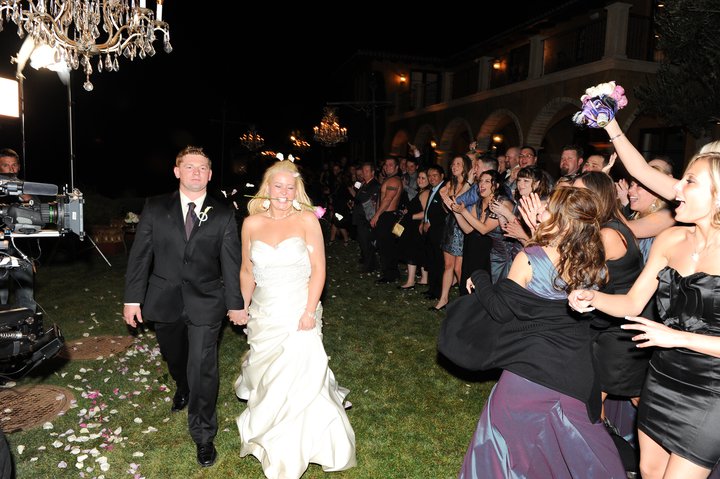 Thank you to all of my amazing collegues listed below, to 51 Minds Productions and E! Entertainment and to John and Allyson. Thank you for allowing me and my team to be part of your very special day.
To Learn more about our company and services please visit our website
The Team
Venue: Villa Cascata www.malibudestinations.com
Catering: Good Gracious! www.goodgraciousevents.com
Decor: Rrivre Works www.rrivreworks.com
Floral Design: LA Premier www.lapremier.com
Rentals: Classic Party Rentals www.classicpartyrentals.com
Linen: WildFlower Linen www.wildflowerlinens.com
Invitation and weddign Stationary: eitak Designs www.eitak.com
Lighting: The Lighter Side www.specialeventlighting.com
Bridal Shots: Micah Smith www.micahsmith.com
Detail Shots: http://www.baumanphotographers.com/
Ceremony Music: Wayne Foster Entertainment www.waynefoster.com
 Reception Music: Pur Digital Entertainment -Casey Conner http://www.sddiscjockey.com/
Cake: Hansen's Bakery: Hansen's Cakes www.hansenscakes.com
Gown: Winnie Couture www.winniecouture.com
Jewelry: Get Your Rox On www.getyourroxon.com
Wedding Rings: Jason of Beverly Hills www.jasonofbh.com
Dance Floor: Platinum Pro www.platinumpro.com