I usually suggest that a favor be something edible OR something useful. Nothing makes me more sad than watching my staff gather the left over favors a client has spent hundreds or sometimes thousands of dollars on! A guest will usually dive right into something edible.
This is one of my favorite favor ideas! I found this vendor last year and I love them! Bedazzle My Bon Bons! They are yummy truffles that are covered in edible glitter! Seriously, edible glitter! They are gorgeous and delicious! They come in 24 different colors, 6 different flavors and can be boxed and personalized or displayed on a Sweet Station. They also have chocolate glitter covered lollipops! They can be delivered anywhere in the United States! They are based out of Florida and I had some shipped to my client's wedding in San Diego! They arrived in perfect condition. How great is that!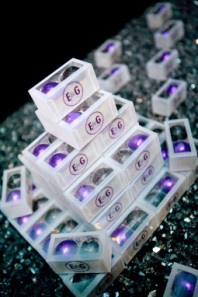 This is a shot from Elise and Giovanni's wedding. I blogged about them a couple of weeks ago. We sent Sasha over at BMBB a jpeg of the couple's logo (which we used everywhere including the emblem on the bar) and she created custom truffles boxes for them. Aren't they great!?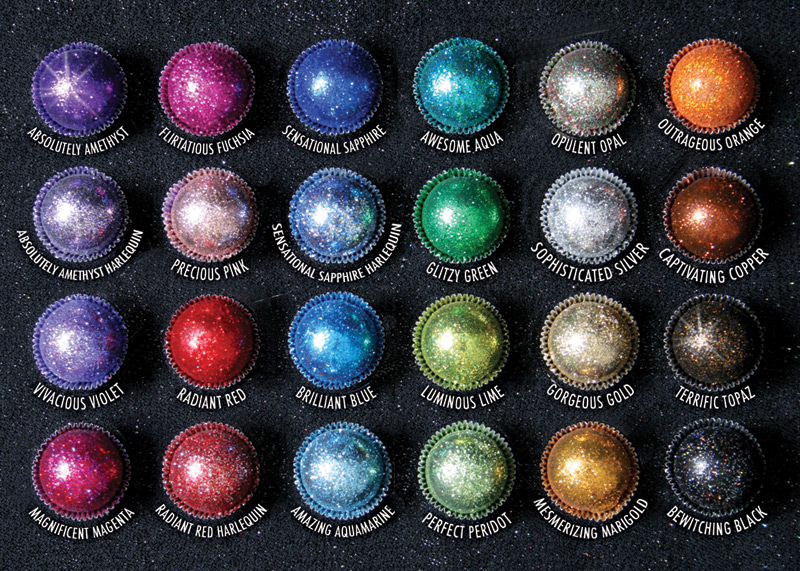 Here are the awesome colors to choose from!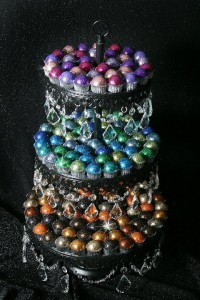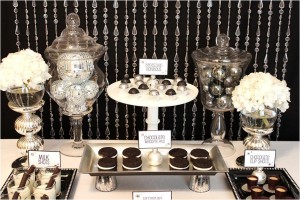 How fun are these candy displays! It's definitely a fun way to bring some BLING into the mix! 
These dazzling babies can be boxed individually, in pairs, by the dozen…the list goes on and on. And how whimsical are these lollipops!? 
This is a great favor that is sure to "dazzle" your guests! So, go to their website and check out all they have to offer!
Question of the week: What cool color combo of glittery goodness can you come up with??? Share with us!