I was honored to be asked again to do a feature on Wedding Trends for CW6. I am so blessed to be able to work with such amazing professionals everyday, and when I need them, they are always there!
Lavonne, of Adorations Botanical Artistry, was by side, not only to ensure the table looked amazing, but to support me and our industry. I can see why brides love and trust in her as much as they do. She is not only an amazing talent, she has a genuine passion for what she does. Thank you so much Lavonne. You were flawless, as usual.
My good friends, Fred and Haydee Alderete, owner of Concepts Event Design, are always ready to support and lend whatever beautiful linen and decor needed. Thank you Haydee and Fred! It looked amazing!
Katie Gaines, of Love Paper Paint…I think we have been working together for about 7 years and you have NEVER disappointed me. Thank you for, not only what you did for our Wedding Trends segment, but for what you do for me and my clients everyday.
The last thing we featured on this segment was The Bridal List. It's a great website that allows brides and grooms to buy and sell wedding items such as gowns,  jewelry,  fabric, decor, etc. And…IT'S FREE!!!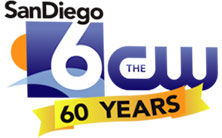 http://www.sandiego6.com/story/summer-bridal-trends-20130713