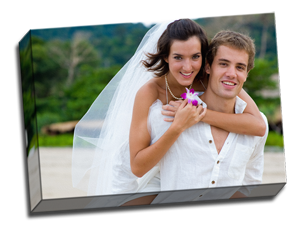 I have become obsessed with printing photos on canvas. I love the way they look and I LOVE that I don't have to buy frames! I love little artsty frames for tables, hutches, etc., but when it comes to large wall prints, I love the clean look of canvas on the wall. It looks like a piece of art! As a wedding planner in Southern California, I am spoiled by unbelievable photography…so I require the best in printing!
So, I just came across this new company www.pictureitoncanvas.com I love it when I find a local business that has done so well for themselves. Picture it on Canvas has grown from 2 employees to over 40, in 4 short years! That speaks volumes to their success! I am actually having them create some prints for me from a family photo session we had with Jared Bauman of Bauman Photographers. I will share them with you when I recieve them! I am so excited!
So if  you need prints of your wedding, your family, friends or children, check out Picture it on Canvas!