As we enter 2012 and embark on our 10th year of weddings, I thought a great way to start off a successful year would be to hear from an EbD bride. Tess Gamboa (now Mrs. Tess Meyers!) is one of the most creative, intelligent, talented and descriptive bride's I have ever worked with! Here is a look back at her wedding…from HER perspective.
As a television producer (bride) and lighting director (groom) in Hollywood, we knew we wanted our wedding to be dramatic, cinematic and unforgettable.  But unlike our industry, we didn't want anything to be too flashy, showy or over-the-top. In Hollywood, everything is about appearances and we wanted our wedding to be more about substance.  It was important to
us to infuse our personalities into the whole celebration — who we are as
individuals as well as who we are s a couple.  Here is the story of how we
created and directed our best production yet:  we had a limited budget and
a tight schedule (ONLY TWO MONTHS!!) but what we accomplished was
award-winning…or at least, worthy of a nomination.  🙂
All my life, I thought I'd have an ultra-glam
Sex and the City wedding.  But, when Carrie Bradshaw marries a granola
Grizzly Adams type, a couple must compromise.  Whereas I tend to lean
towards Louboutins, Andrew is always barefoot.  I thrive in the urban
jungle, he is at peace in nature.  But we BOTH love our families, friends
— and dogs — AND we both love entertaining at home.  So much so, that
Andrew's gourmet foodie tendencies earned him nicknames like "Chef
Mandrew" and, yes, believe it or not, "Martha Stewart" during
our weekly dinners and BBQs.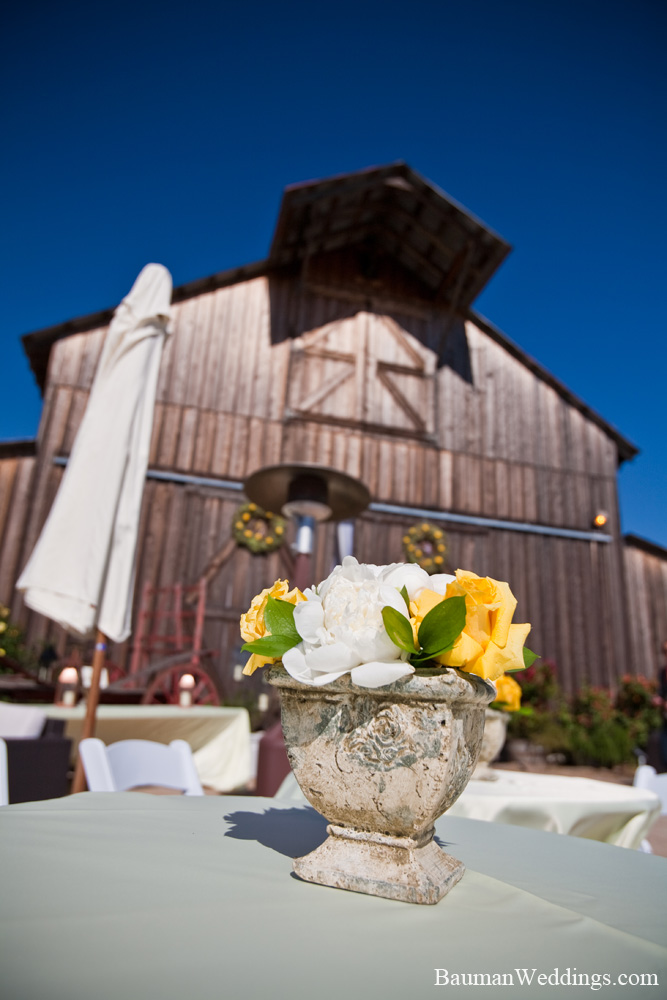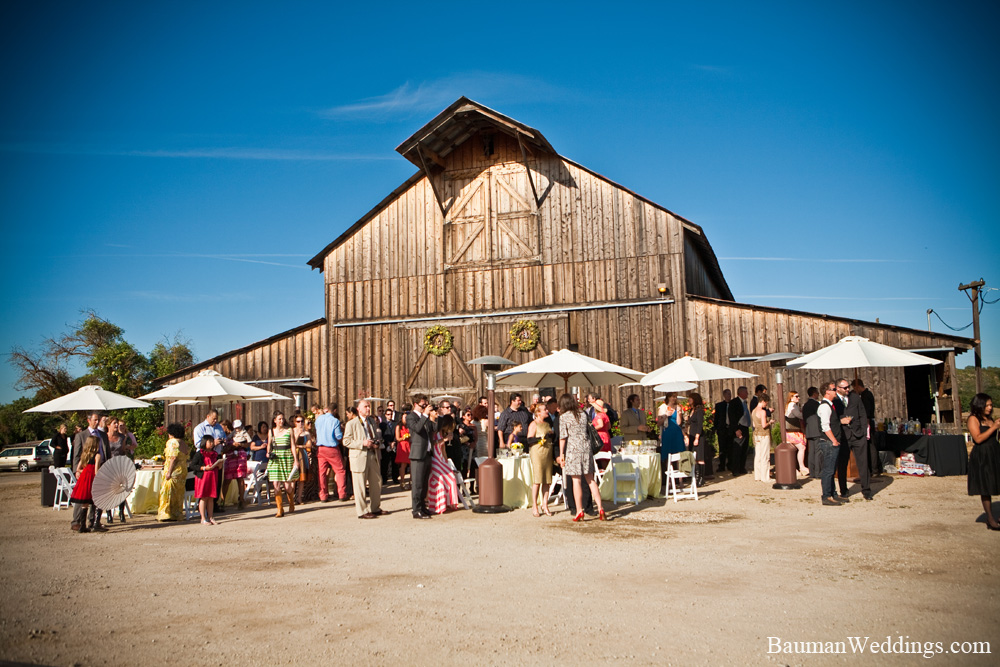 Our city mouse/country mouse blend found the
perfect setting at the Santa Margarita Ranch on California's Central Coast.
Our ceremony site was a lush green garden lawn, we wed beneath a huge oak
tree, the ranch was peppered with dozens of majestic trees – making the setting
look like something from Middle-Earth, truly other-worldly.  The symbolism
of the tree was not lost on us; since I was a child, my father often gave
toasts and prayers at holidays about the importance of a family having
"strong roots."  Wedding beneath an oak tree represented these
strong roots in the foundation of our family and friends, the trunk was the
unwavering support system, the branches the constant shelter and protection of
our loved ones.  The tree became our wedding logo.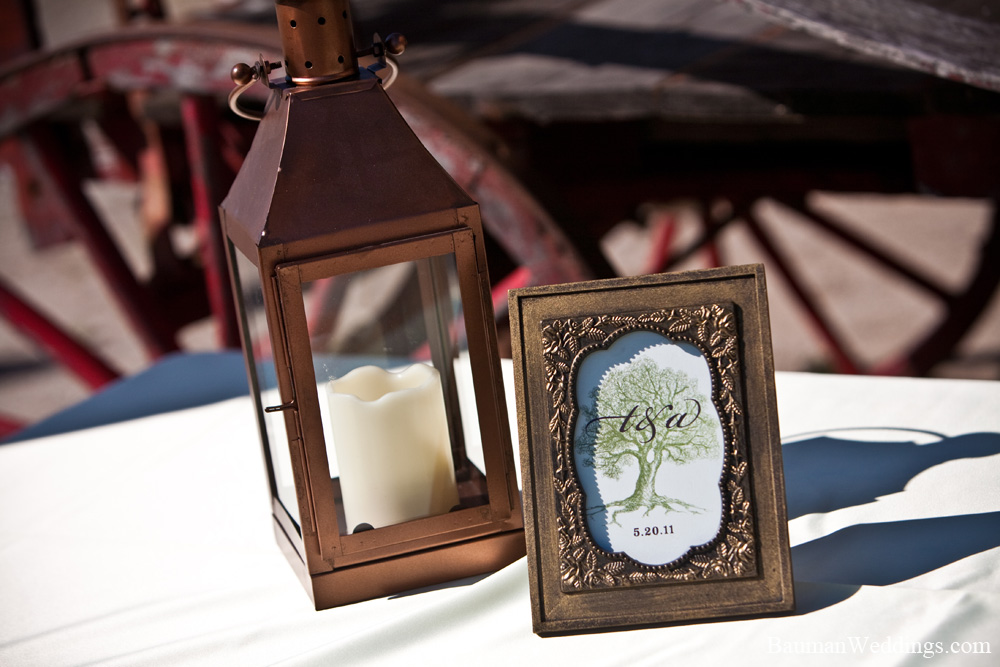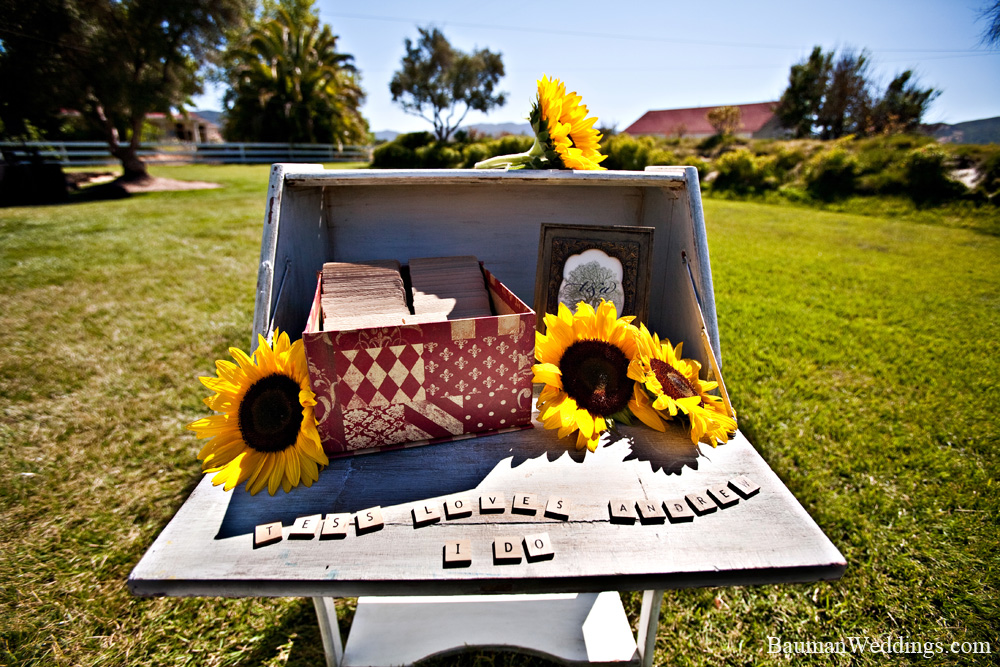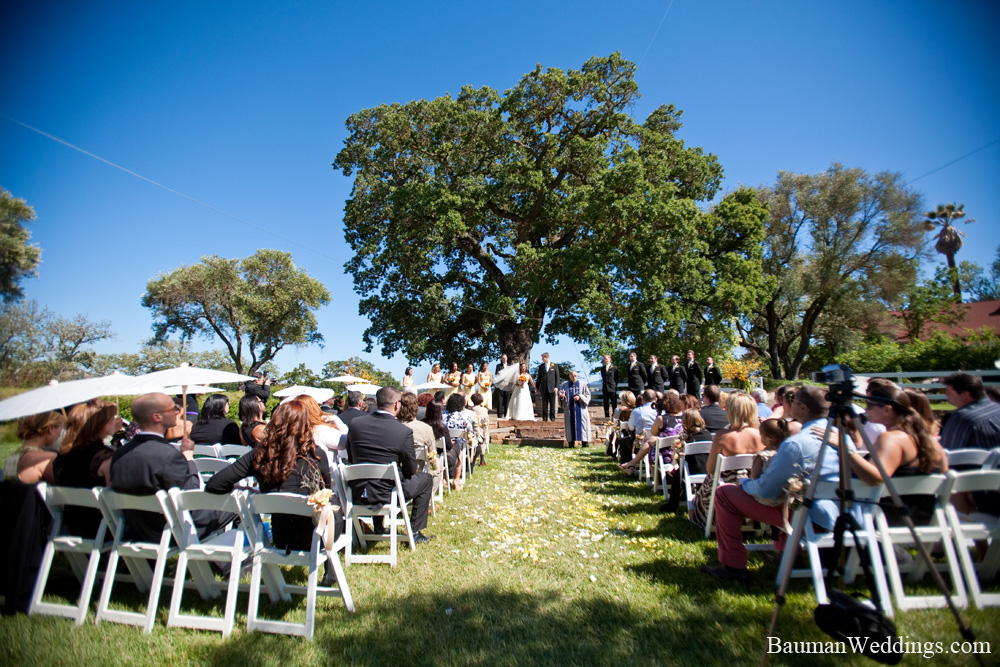 Our reception took place in the Ranch's historic
barn.  The building dated back to the 1700s and was the site of the
meeting place between two missions, Mission San Luis Obispo and Mission San
Miguel.  With its breathtaking stone walls, lofted ceilings and rich
history, we knew the barn would be the perfect meeting place between our
families as well.  It was the perfect place to pull off our "ballroom
in a barn."
***Andrew and I wanted a quintessential
California wedding, from the cuisine to the decor to the activities.  We
wanted casual elegance, a vintage vibe without being too hipster, organic
elements without being too cliche.  The personalized touches were
paramount to us, and as such, we worked day and night with our dream team of
wedding vendors and paid painstaking attention to every last detail.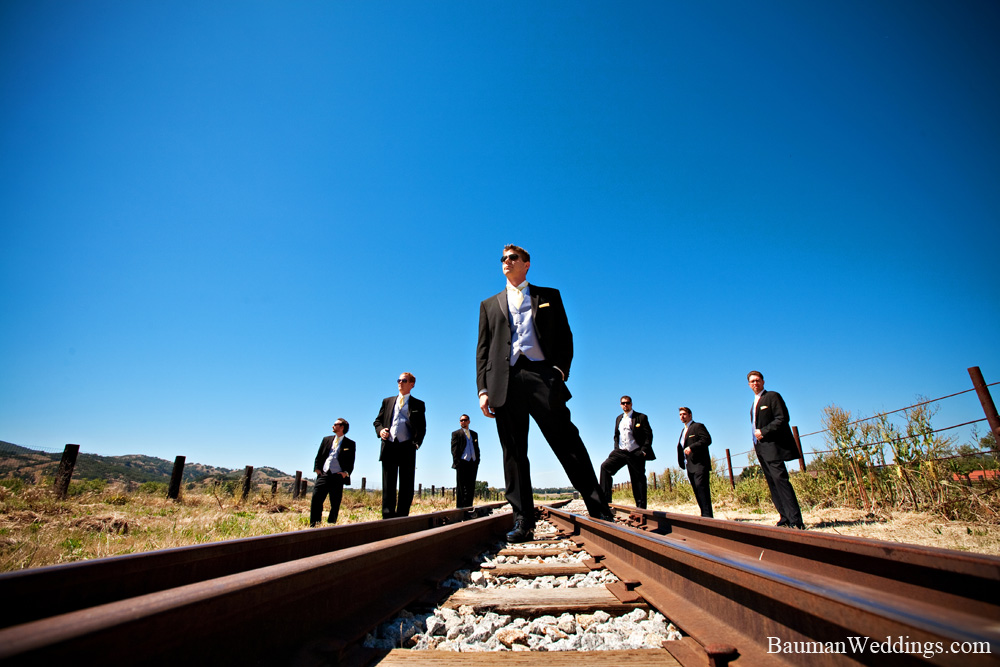 Ranch/Ceremony/Train Ride:
*Marquee – Ranch had an old marquee, initially
belonging to the Santa Barbara Theater, with the phrase "Action! Comedy!
Drama!  Our Wedding Starring Tess & Andrew" and instead of
"The End…"  it said "The Beginning…"
 *guests were treated to rides around the
14,000 acre ranch on a steam engine train, originally from Disneyland, only
train ever removed from the park!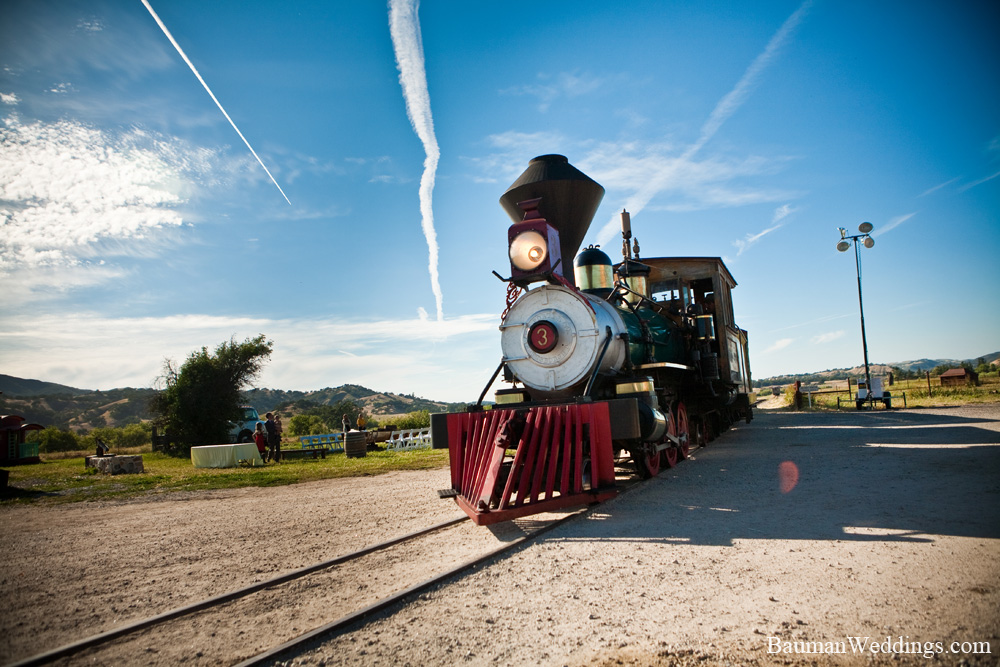 *"Just Married" pennant on the back of
the train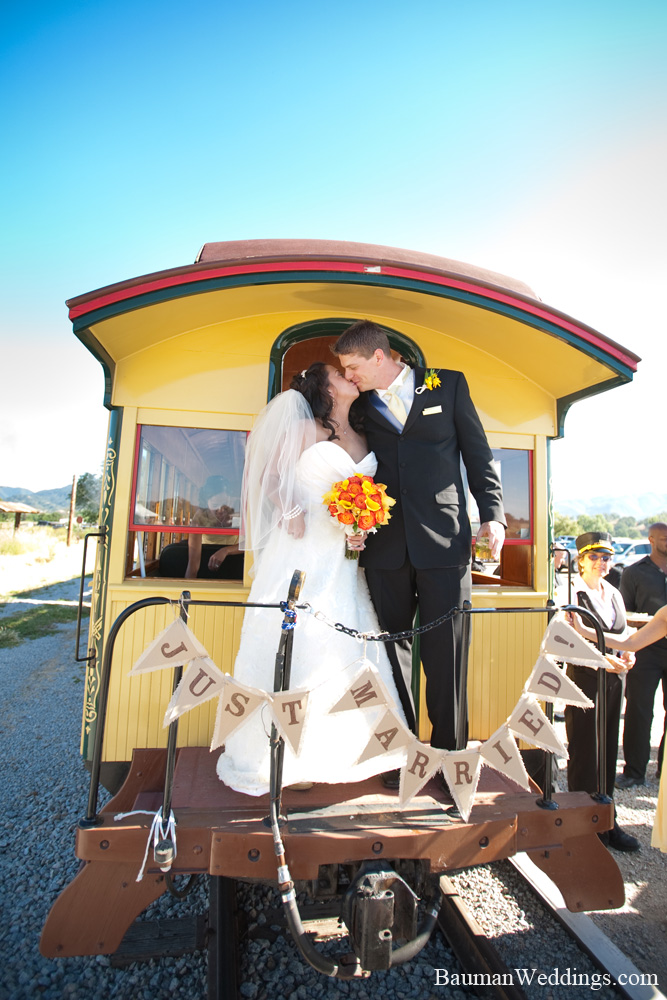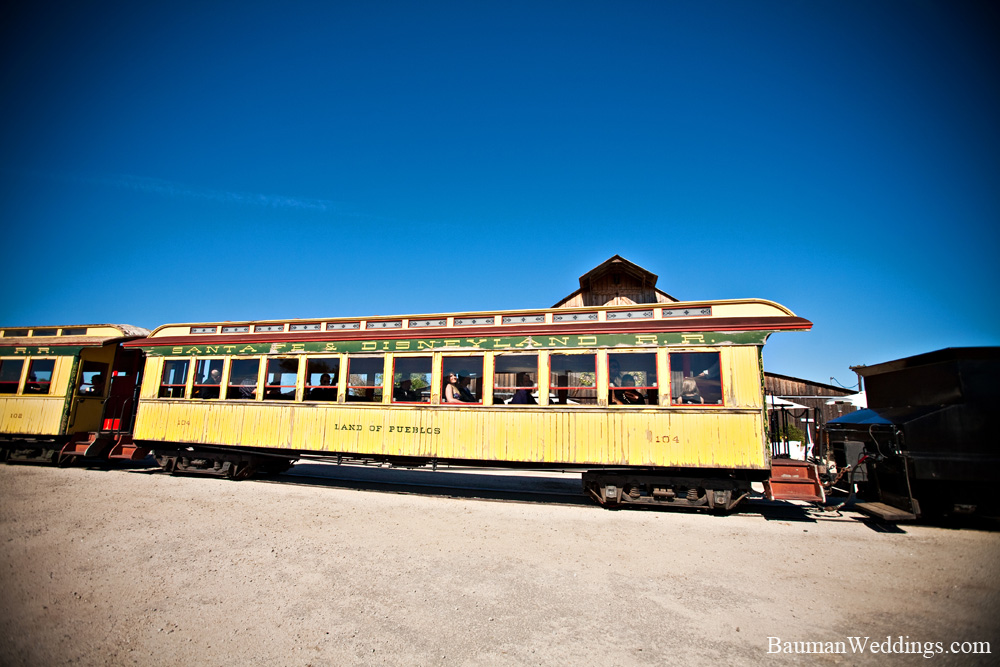 *bluegrass/rock band to surprise the groom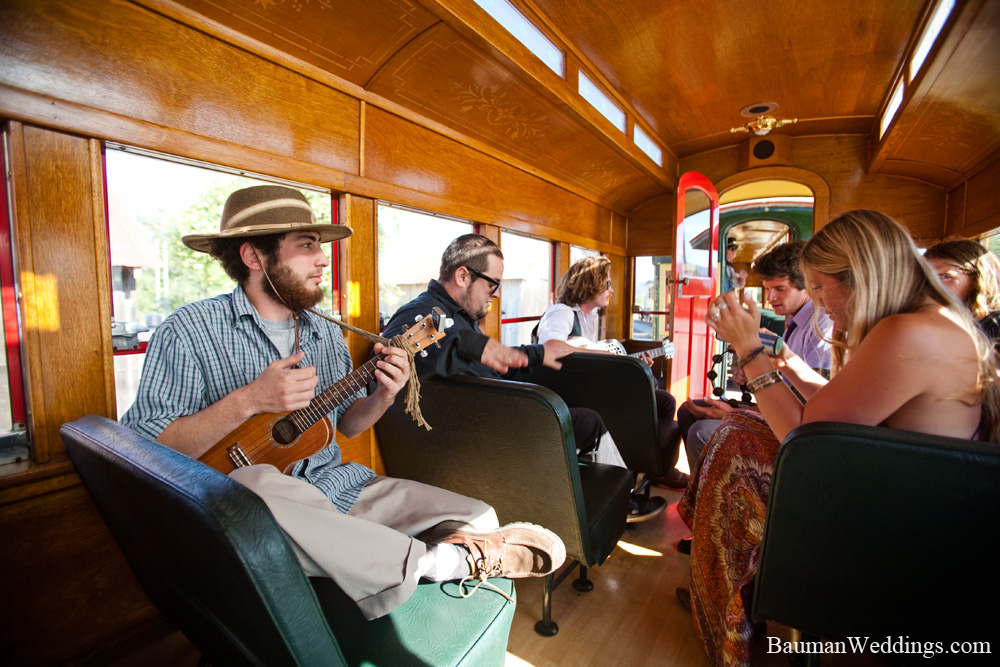 *handmade signs thruout "Wedding"
"Ceremony" "Reception" "Eat Drink Be Married"
"Next Stop: Happily Ever After" (groom and groom's family,
particularly his mother, made these signs)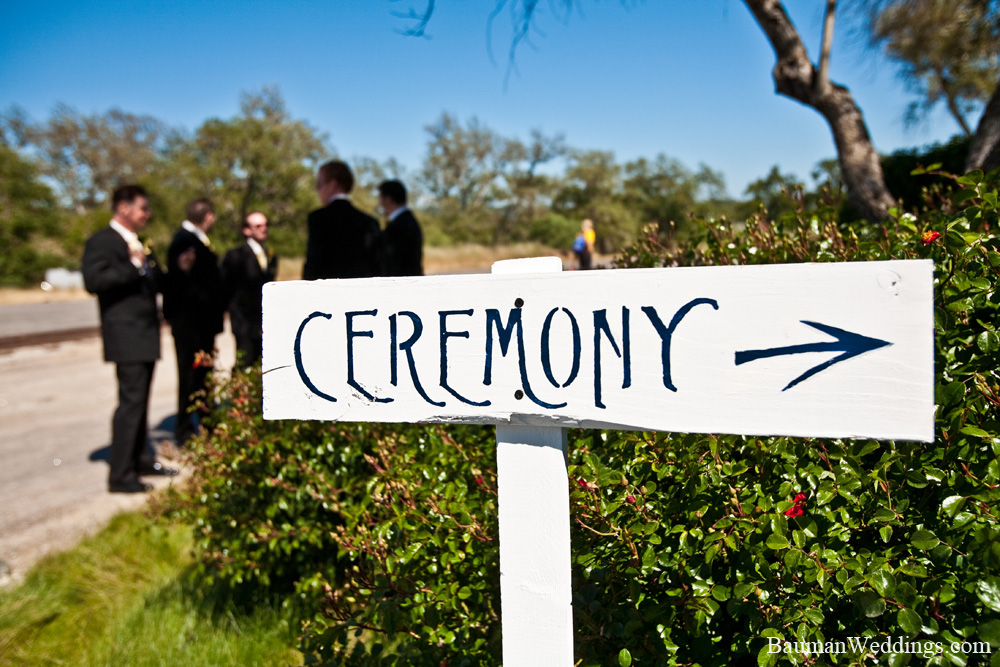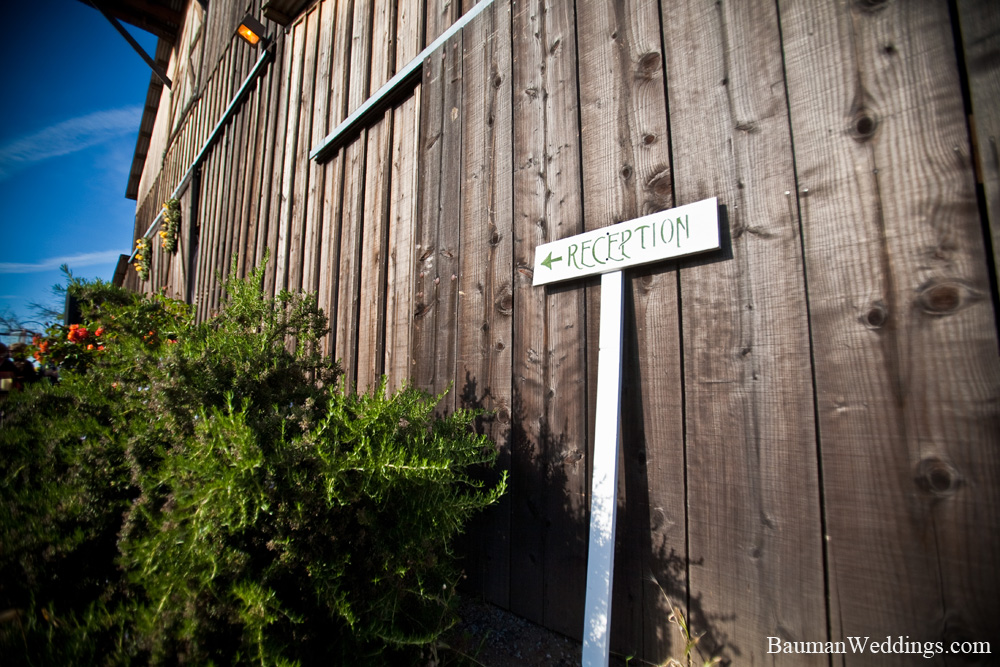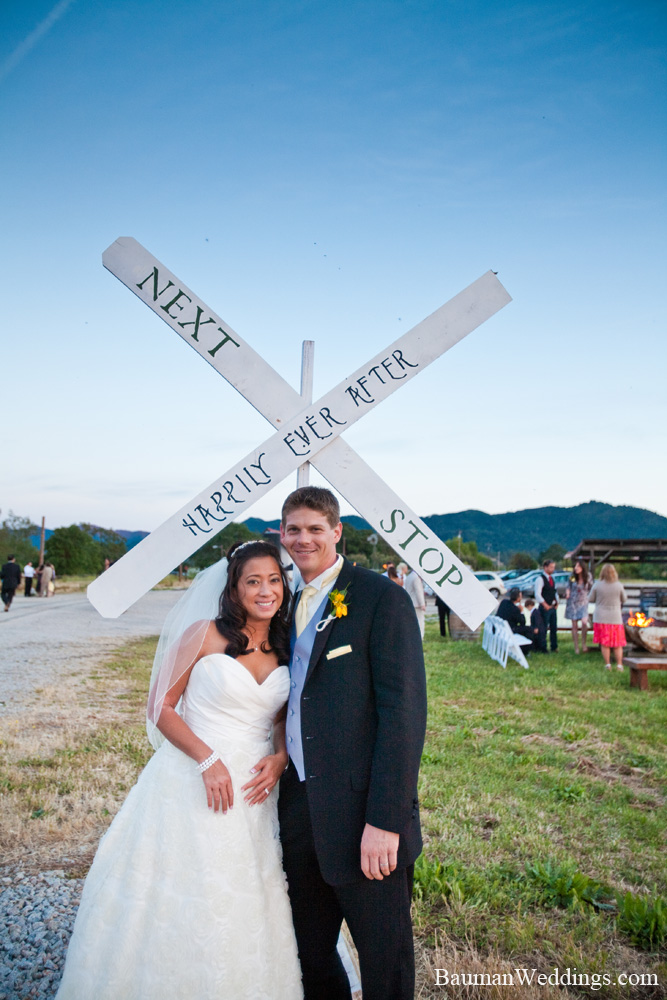 *little wooden barn like a birdcage – opens up
for cards (groom's mother painted/decorated)
*rings – bride tied parents' wedding rings to handle of bouquet
*veil – belonged to bride's friend who was
killed in a car accident 2.5 years ago
*doggie processional/"Best Four-Legged
Men" in the program; dogs wore matching gold/ivory bridal collars and
leashes made by one of the "Canine Escorts"
Cocktail Hour:
*Signature Drinks: Mandrewtini & The Bridal
Julep
*TypeWriter/"Recipes" Table – instead
of a traditional guest sign-in book, guests instead left their "recipe for
a happy marriage" typed on a vintage typewriter and put in an antique case
*Unique Grand Intro -bridal party and bride
& groom disembarked off the train in front of the barn
*giant group shot of all guests in front of barn
*misc. signs/quotes thruout – favorites of the
bride from the love songs, Broadway musicals, the Bible, etc.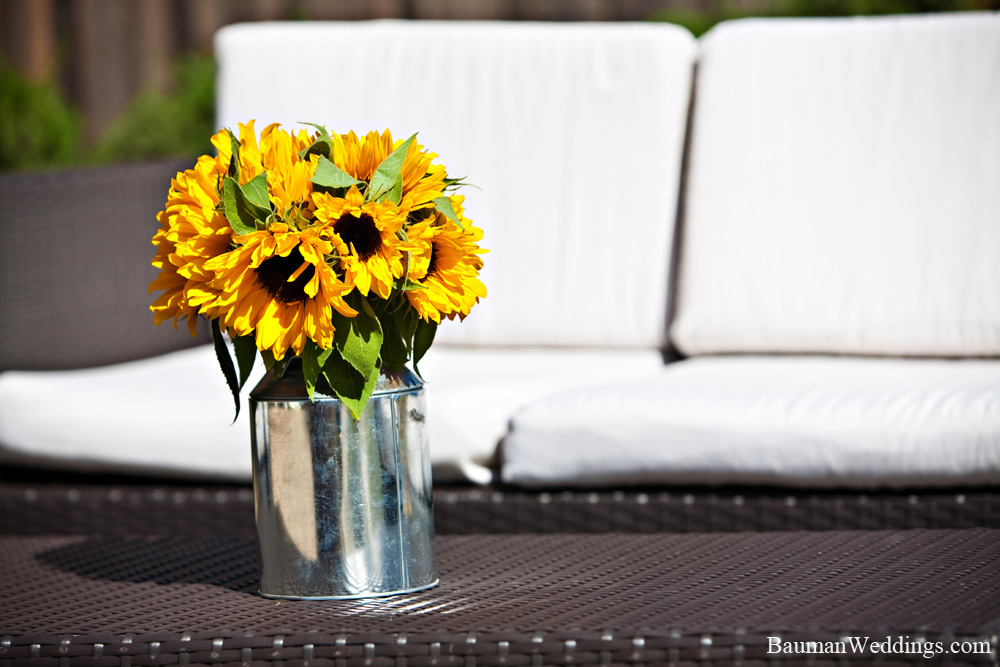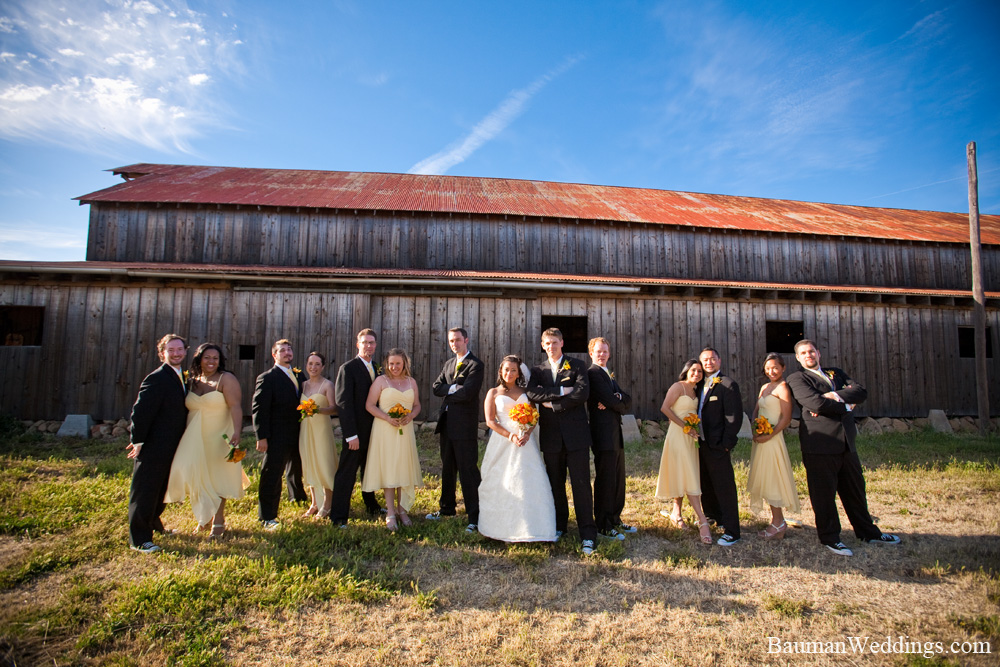 Reception/Dessert:
*family style dinner with gourmet comfort food
*long rectangular feasting tables, tables in
shape of a giant U with right angles
*chalkboard table numbers in vintage distressed
gold frames
*window-pane seating chart
*Cake Toppers –
groom's mother is an artist and created clay likenesses of our two dogs as the
cake toppers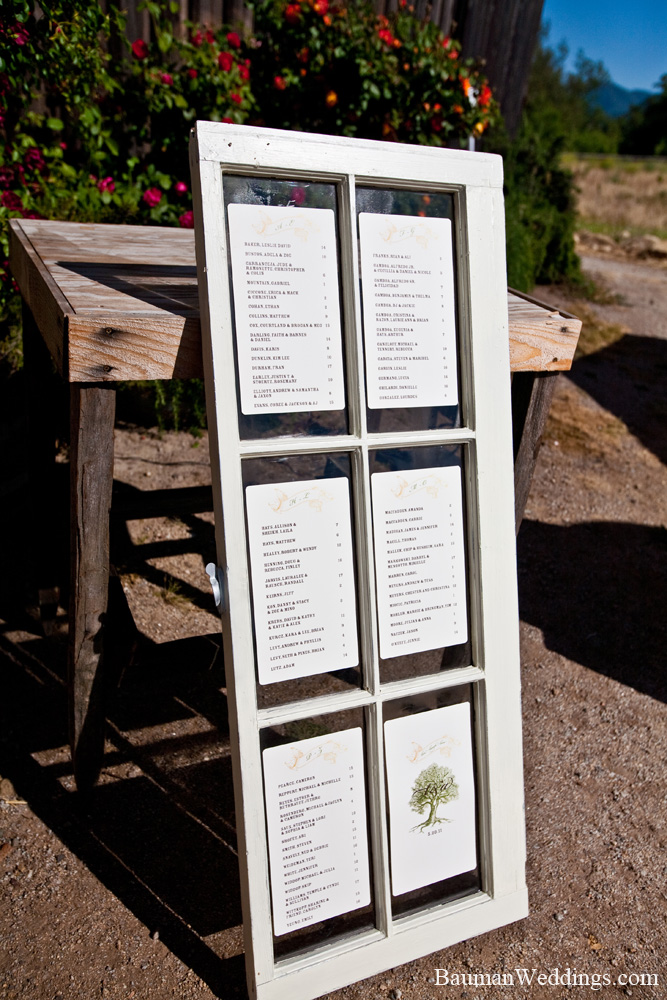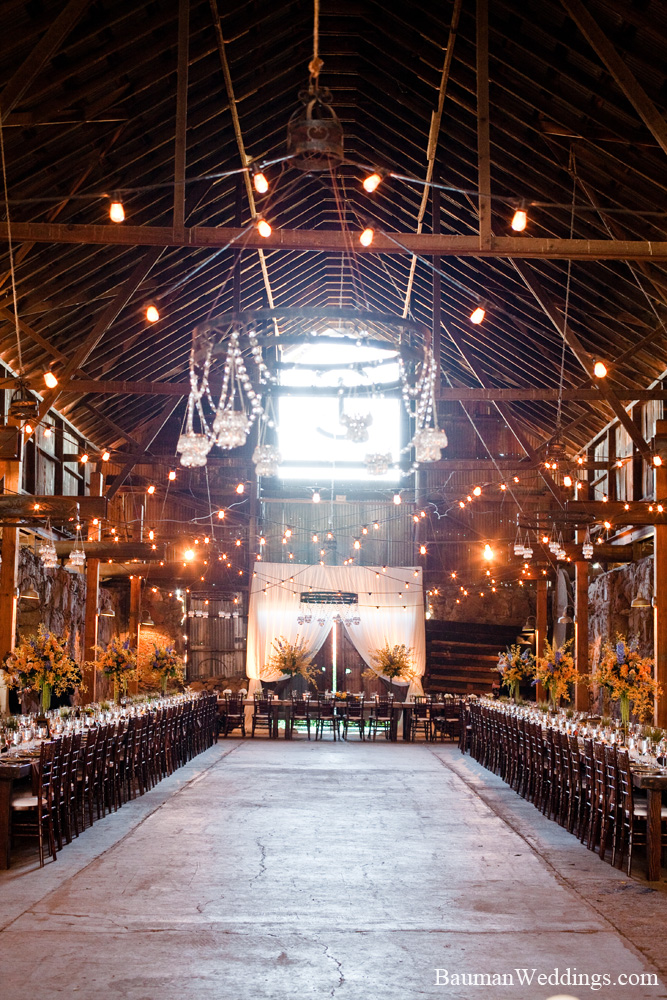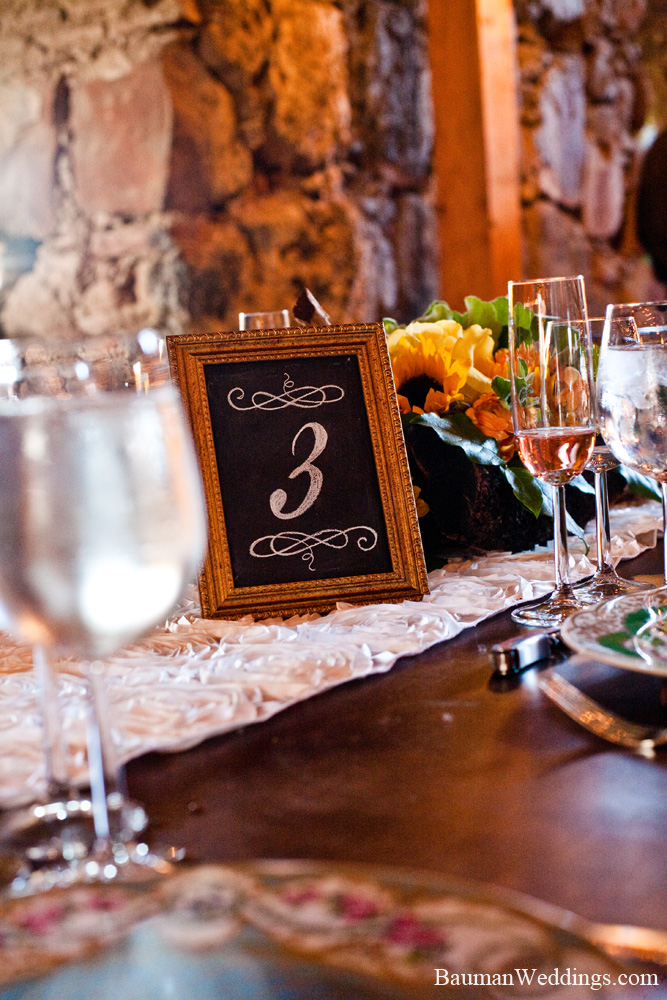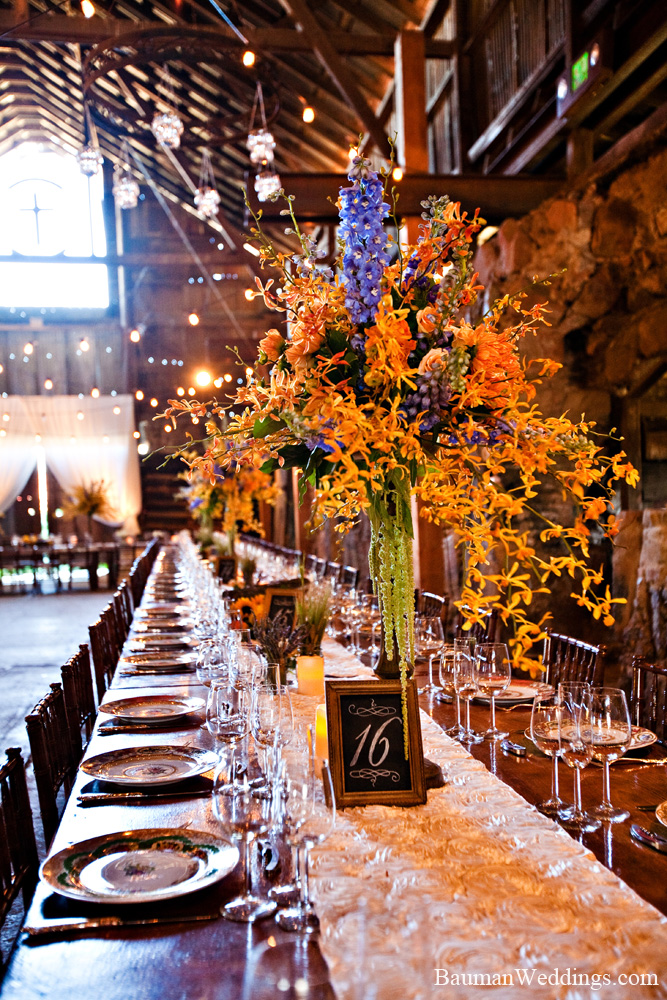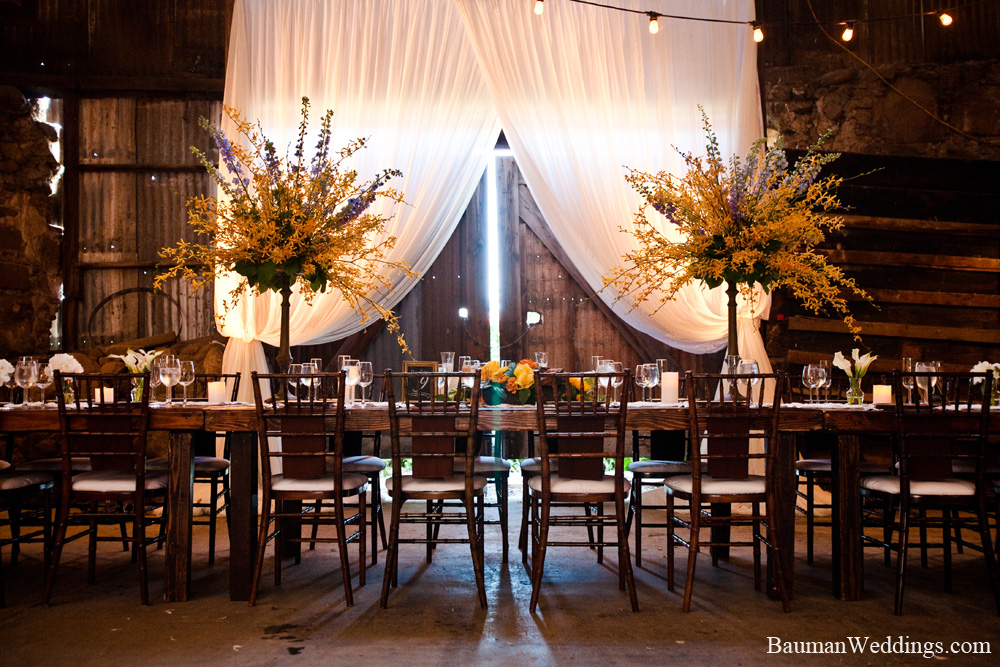 *PHOTO DISPLAY – couple printed out almost 200
photos, collected from friends/family from special occasions and weddings of
their own.  Displayed them on large decorative wrought-ion/metal
concentric circles and large wooden hitching posts with clothespins and twine.
Large sign near display that read "YOU ARE MY FAMILY" in a
vintage gold distressed frame.
*Andrew made a lighting "gobo" so our
tree logo and monogram could be projected via light onto the exterior of the
barn, the interior roof and dance floor as well
*instead of traditional dessert table, Cold
Stone Creamery had an ice cream bar (the couple LOVES ice cream)
*and the one request the groom absolutely
declared a "must-have" a campfire/firepit with all the s'mores
fixings in monogrammed bags with the tree logo!
I spent most of the night dancing under crystal
chandeliers with my girlfriends, he spent most of it outside under the stars by
the fire with the guys, his feet in the dirt.  But we always found our way
back to each other.  Wrapped up in each other's arms, witnessing our two
worlds collide, guests grinning that the celebration was like every weekend
hosting in our backyard — except bigger and better! – we realized we had
successfully produced our "happily ever after."  One princess'
castle is another bride's barn.  The Beginning…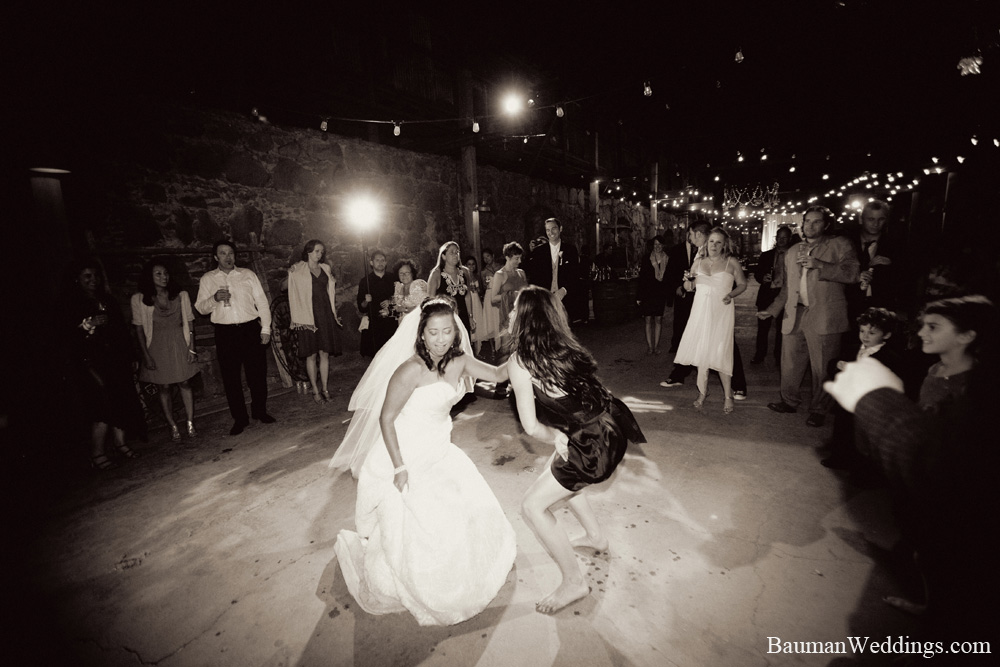 I hope you enjoyed Tess' wedding from HER perspective. Thank you to all if the incredible vendors that made this possible.
Caterer: EAT by Chef Greg DeMichiel