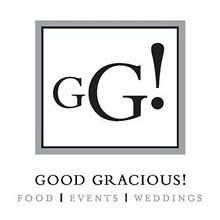 Pauline Parry – Good Gracious Events!
There just isn't enough I can say about this woman… and this company! I like to call Pauline the "British Paula Dean". You know how Paula Dean always makes food sound so fun and exciting? Pauline has her own way of doing just that…making food fun and exciting…in the most beautiful sounding way! I love the way she says (insert British accent here) "strawwburry"! I could listen to her talk for hours! She in an innovator and continues to inspire me every time I am in her presence.
What I love about this company is the fact that they have managed to master both quality of food AND quality of service. Sigh…a wedding planners dream. The service is quick, thorough and elegant. The staff is well manicured and the food…de-lish-ous!
Pauline has been kind enough to treat us all to the recipe of my favorite cocktail designed by GG!…the LOVE Martini. When I first read the ingredients to this drink, I thought there was NO way I would like it. The white balsamic threw me off! But let me tell you…I LOVE IT! The pairing of all these different flavors is amazing when they fuse together!  Give it a try, you will be pleasantly surprised. It takes some effort but it is well worth it!
LOVE Martini
by Good Gracious! Events
Inspired by a chef's pairing of
strawberries, balsamic vinegar,
and a hint of black pepper!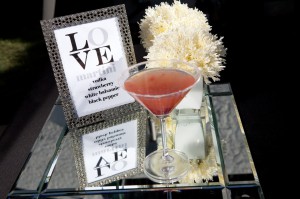 RECIPE
Rim:
white balsamic pomegranate reduction (a gourmet store purchase)
granulated sugar
Martini:
2 tablespoons strawberry base and 1 ounce of its nectar (recipe below)
2 ounces premium vodka
Ice
Method:
Moisten martini glass rim with white balsamic reduction and rim with sugar and put 1 tablespoon strawberry base in glass.  In a martini shaker, combine ice, vodka, 1 tablespoon strawberry base and the nectar.  Shake until icy cold and strain into martini glass.
STRAWBERRY BASE & NECTAR
(for about 20 drinks)
Combine:
2 pint baskets of strawberries, diced
2 cups simple syrup
2 tablespoons balsamic vinegar
1 teaspoon ground black pepper
Stir and let soak at least one hour and up to 24 hours, refrigerated
Pauline has created an amazing book that that depicts the art of throwing a party! It's called FOOD FUN LOVE and everyone should have one!
Thank you Pauline and the Good Gracious Team! I look forward to many more events with you!
http://goodgraciousevents.com/index.html